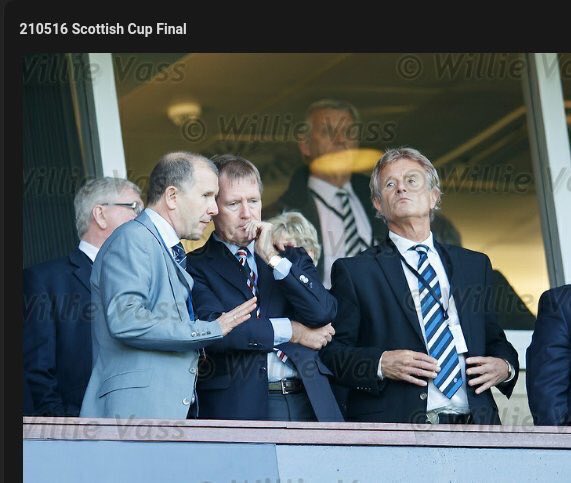 Mr Regan patiently explaining the finer points of PAYE and National Insurance to Mr King.
"Dear JJ,
Lady Bear and I have just returned from another outing to The Court of Session. Reporting restrictions are in place to cover the unlikely event of a jury trial, but suffice to say the subject matter being discussed was asset freezing. Which led Lady Bear and I to discuss Our Dear Leader's funds that were deposited in Guernsey being subject to a Mareva Injunction and the topic of relief. Mr King claimed 'horticultural relief' from his retained funds to cover his Psoralea Pinnata  shrubbery, which goes by the informal title of the  "Kool-Aid Bush". As you may recall from Jim White's 'homage' to our dear leader, the 32,000 bottles of wine that he misappropriated from the warrant sale of his Quoin Rock Winery have since been returned to their rightful owner, which freed up space to step up production of Mr King's answer to Irn Bru.
He took a couple of sample flasks of his latest pressing to Hampden to dispense to his fellow directors at The Scottish Cup Final. Sadly Alastair Johnston, The Monocled Mutineer in the photograph, was not prepared to pitch Mr King's heady brew to the scions of Wall Street as he could not envisage a return on their investments.
Mr Warburton, who took a flask of kool-aid with him on vacation, was overheard discussing the managerial vacancy at Watford and whether his experience with the under 10s should warrant an interview. What is your take on this JJ? Do you have any thoughts on the forthcoming Scottish FA enquiry? Will Campbell Ogilvie be hired to present evidence on behalf of the SFA? Will the SFA be accepting King's Kool-Aid as an approved SFA beverage?
I apologize for the slew of questions. I was hoping for some clarity prior to Craig Whyte's next hearing on Friday, then a trip to Epsom for The Derby on Saturday. Lady Bear is fond of a flutter, as you well know.
Yours in Rangers,
Edward (Teddy) Bear Esquire"
Dear Teddy,
Thank you for your letter. I understand your concerns apropos the forthcoming SFA enquiry. In some quarters of Govan they are calling for Mr Petrie to be airlifted to Iceland and dropped in the active volcano at Mount Hekla. One would hope that 'kooler' heads prevail and that this sacrifice to The Sons of Strewth will not be necesary. As for Campbell Ogilvie, The DOS/EBT Pimpernel,  speaking with forked tongue on behalf of the SFA tepee, nothing would surprise me when discussing this corrupt cabal.
Our Dear Leader's bush-spinning idea may have some traction. In a worst case scenario it may wash down the medicine of a reduced contract for Mr Warburton. Over in the East End, Brendan Rodgers National Insurance payments will dwarf Mr Warburton's new contract. Despite this tax being a relatively new concept at Ibrox, one can understand Mr Warburton's concern. If one could only turn back the clocks to those heady days of wine and roses, with a picnic by a babbling brook of reduced tax payments to HMRC, and Sandy Bryson gambolling like a spring lamb in an imperfect, but acceptable, meadow?
As you and Lady Bear may have noted from my previous post (thank you for your support) some of the Rangers support also encroached on the field to stop nine year old boys from harassing the Rangers players. Mr Wallace complained of a gash in his side, but I would have thought that spears were prohibited at Hampden. I realise that the Police Scotland response was criticised as somewhat lax, but allowing fans purporting to be Zulu warriors into Hampden was surely beyond the pale? A more enterprising player may have used the netting that was readily available at the Hibs end to engage in a makeshift gladiatorial contest.
Next season the theme will be Minder :
Joey Barton will play the role of Terry McCann and Our Dear Leader will naturally be cast as Arthur Daley. It was somewhat prescient of Mr King to hire protection for the players. We should doff our bowler hats in recognition of his forethought.
Yours in Rangers,
JJ