At this time of year we can look forward to more of the following genre of adverts that have become a regular feature at The Herald Group (The Herald, The Sunday Herald, The Evening Times):
There are two other boards at Auchenhowie that are rolled out to promote season tickets and 'pay at the gate'. At The Herald Group every feature on a Rangers signing or a player renewing his contract is accompanied by advertising. What you will never see in The Herald Group is the following photograph from Getty images: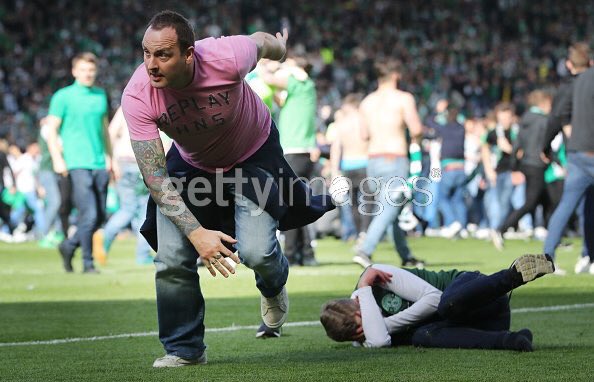 This was taken at The Scottish Cup Final. This must be what Chris Graham/ Mangetout Traynor were referring to as 'restraint'. We can but hope that the young poleaxed fan recovered from his assault.
Level Five set the agenda for The Herald Group. A programme of 'indirect' advertising does not come cheap. No-one should be in any doubt that the Herald Group's main focus is the sale of advertising. Graham Spiers is more aware of this than most. His article that someone on the Rangers board was warmly disposed to a proscribed song, namely The Billy Boys, resulted in his freelance articles being surplus to requirements. The Level Five/Rangers Account and The Park Group Account are much more important than honest copy at these despicable organs. Chris 'Union' Jack, who runs his own Rangers fanzine within The Evening Times, has Craig Houston on speed-dial to solicit quotes from an organisation that openly advocates a return to excluding Catholics from the staff at Ibrox. I don't anticipate Joseph Anthony Barton being on Mr Houston's speed-dial as an after dinner speaker at a Sons of Strewth social event, where partners might well be referred to as 'plus two' as they are subject to change.
If you are running for office, as is the case with Stewart Robertson, who better to turn to than Level Five and The Herald Group. Does anyone believe that all those images of the Rangers Managing Director, and all the corresponding copy, is little more than a blatant attempt to elevate his profile for a seat on The SFA Professional Game Board or to replace Eric Riley on the SPFL board? Mr Robertson would prefer that Rangers fans sing proscribed songs as opposed to attacking young Hibs fans, however he should have been condemning both. Mangetout Traynor has his feet in his mouth so often these days that his head is a ventriloquist's dummy for his brown brogues.
As those who follow this site are aware, there is a plan to publish two advertising articles on Resolution 12. This is a crowdfunded initiative from supporters of CFC, Aberdeen, Hearts, Dundee United and other clubs.The SFA did well to avoid the fallout from the expose of their malfeasance in the TJN report, however they are not out of the woods yet.This initiative will question the decision by the SFA to allow Rangers to participate in 2011 UEFA tournaments despite having overdue social taxes. When the 'Resolution 12′ newspaper initiative was announced, two newspapers were mentioned – one in Switzerland and the other based in England. The intention was to spread the message across Great Britain and also in Switzerland, where UEFA is based.
This initiative, which is being coordinated by Celtic Quick News (CQN), which I am led to believe is run by Paul Brennan, caught the eye of The Herald's Senior Media Accounts Manager.He contacted CQN on the 19th May with the following e-mail:
"I appreciate you guys are running some advertising in The Guardian to raise the Resolution 12 matter & with this in mind I wondered if there was opportunity to take advantage of our portfolio of media brands can help to drive awareness. We have a successful track record of commercial success stories & over 4 million adults engage with our brands via print, digital or social media each month and on a daily basis we connect with over 400,000."
It's evident that grammar is not a strong point at The Herald's advertising desk, but this did not deter the enterprising media accounts manager, who later that day followed up with:
"Would you be using the content from the Guardian advert? If so can you forward me this & I will check with editor & legal team etc".
This is a reference to the legal team who approved an earlier CQN advertising initiative on 25th January, 2015, on the eve of the 'first' match between CFC and 'new entity' The Rangers Football Club. This led to numerous complaints to The Advertising Standards Authority. None of these complaints were upheld. The proposed advert was not ready for remittance at that time.
A few days later The Herald's Senior Media Accounts Manager was back in touch with CQN on 23 May . He wrote:
"Just had feedback from the powers that be & we are unable to run your proposed advert. Good luck with the coverage in the Guardian."
In response to this CQN stated:
"The newspaper group that carried the 'New Club' Statement, that had actively canvassed for more advertising booking on this subject around the Scottish Cup Semi Final and had approached CQN specifically about running the 'Resolution 12′ Statement had, without ever seeing the text for the Resolution 12 Statement, now decided that they did not want to carry this Statement on the issues surrounding Resolution 12".
Is it possible that the 'unseen' hand of Mangetout Traynor is at work here? Did he remind The Herald Group of the commercial contracts that would be at risk if they ran with this advert?