The Rangers apologists in the SMSM will be the last to acknowledge that there has been a seismic shift in Scottish football. Rangers have now played the Champions and runners-up and have been found wanting in both. No points, with seven goals conceded, and only one goal scored in open play, is not the form of champions-elect. Warburton was all at sea yesterday. He was quick to berate the officials for awarding a soft free kick, but not willing to comment on the fact that although Lee Wallace's shirt was being pulled outside the box he cleverly went down inside. A free kick should have been awarded. If both incidents had been called correctly Aberdeen would still have prevailed.
Neil Doncaster, who heads the queue of obsequious Rangers apologists, will be concerned that his Punch & Judy end of the pier show is at an end. Punch was found to be using an EBT loaded cosh and was reported to Social Services by Judy. The latter, a.k.a. the SFA, turned a blind eye to her malaise and asserted that she had been imperfectly but legitimately battered. The fact that Punch also stole Judy's purse from 1998-2011 has been largely ignored. The old Punch was eventually sent down for his crimes and in 2012 a new Punch facsimile emerged.
Prior to the beginning of the season I predicted that Rangers would vie with ICT for 6th place. I did not foresee them winning only two of their seven games. If Celtic convincingly win the Bet Fred Semi in October, the wise man from the South East will not feature in the Rangers nativity play. Warburton-at-sea is out of his depth.There were those in the board who wanted his head after the Scottish Cup final. It's just a matter of time before he is told to pack up his magic hat and revert to the EFL to learn his trade. He won't be allowed to see out his apprenticeship at Auchenhowie.
Managers rise and fall on their transfer business. As the ST receipts seem to have been ring-fenced to pay off King's £5m Chinese Laundry Scam and the relocation to Hampden, Warburton was banking on Waghorn's departure to pay for Garner. The latter has dispensed with his tea cosy but is one bag short of a brew. Over-the-Hill and Miller are in urgent need of a tandem mobility scooter to get them through ninety minutes. Yo Yo Ma could not get a tune out of Kranjcar, as Rossiter's muscle-wasting condition seems to continue unabated. Liverpool were probably relieved to remove Rossiter from their insurance policy as he would have put paid to their no-claims discount. Miller, taking a leaf out of Barton's book, is now boxing in restaurants. His defence counsel will claim that he was merely participating in an homage to Vermeer's Girl with a Pearl Earring. His female victim who lost her earring in the unseemly scuffle will beg to differ.
Warburton-at-sea reminds me of the Roman slaves who were sent to warm up the toilet seats for their masters. He is keeping the seat warm for Davie Weir. This juncture is as good a time as any to introduce a new feature to this site, namely Toilet Watch. I will consider the threat in five categories:
DEFPAN 5 : The lowest state of readiness. Poor urinal use and normal splashback.
DEFPAN 4 : Double Take. Increased intelligence watch on floor and ceiling tiles.
DEFPAN 3 : Round House. Incoming 'Floaters' Alert.
DEFPAN 2 : Fast Pace. Cubicle Integrity Alert.
DEFPAN 1 : Cocked Pistol. The urinals are air born.
In Dundee, the crack Bauhaus minimalist school of lavatory redesign was at DEFPAN 5, with some brown brogue spillage recorded. At Pittodrie, it was DEFPAN 4, which included a roof and floor tile frisbee alert . At Celtic Park it was DEFPAN 1. Urinals were air born and some were so distressed that they took flight: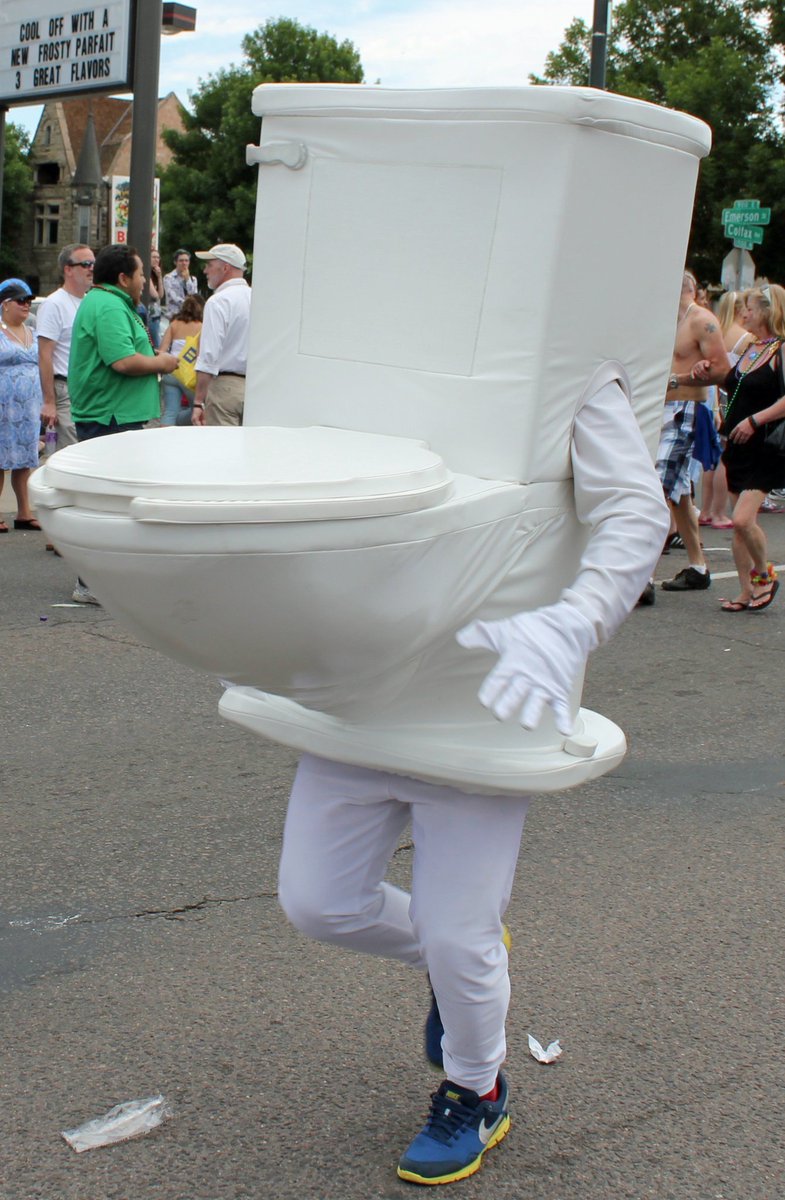 The DEFPAN threat at Celtic Park was so intense that two dolls were seen to be hanging on in quiet desperation.
To coin a phrase that was introduced to the football lexicon by a former Aberdeen manager, it was squeaky bum time at Pittodrie yesterday. A 90th minute winner from a sublime free kick was not well received by Warburton-at-sea who was convinced that it was a 3-1 game for his threadbare squad of Geriatricos and Bothwell cage fighters. If Warburton was less than dignified, spare a thought for the sanitary ware at The Beach End. One concerned WC Field Unit was seen legging it as the game entered added time.
It's important to stress that Joey Barton was 600 miles from Pittodrie and cannot be blamed for any Pissoir Pugilism. The board's best efforts to dispose of Barton is now seen as a flash in the pan. As King and Potless Paul are far from flush at present, paying the squad's monthly salaries is driving them round the U-bend. The fact that they have only had to pay two win bonuses from the initial seven games is a minor blessing, as it was number 2 on their list of concerns.
The late goal by Aberdeen was otherwise as welcome as a 'floater' in the swimming pool. On the four-hour return journey to Glasgow, including a comfort break, the Rangers supporters were beginning to realize that Chairman Charlotte had sold them an Andrex puppy. The pervading mood was of a sinking feeling as their team plunged below the top six waterline.
The Aberdeen team seemed tired and listless in the first half.Rumours that they were engaging in etching and potato-printing on the Rangers coach livery in the early hours are probably wide of the mark.
Warburton-at-sea, who puts the clueless in country, is now under pressure as another humiliating reverse could be his Water-loo.
As Warburton looks back on the Lescott debacle, he will rue the fact that the board did not have a pot to piss in.