When trying to bury bad news the default position is to issue the bad tidings on a day where the news agenda is being dominated by a major story. The FBI investigation of Hilary Clinton's  lady-in-waiting,  and the meat and two veg 'twerking' of her assistant's husband to a 15 years old girl, could lead to a new president being sworn in and then impeached within hours.This took care of the front pages, but the back pages also had to be neutralized. A couple of calls to sports editors with the 'nugget' that losses had been halved and that there was nothing to see, please move along, might have worked in the past. However the more discerning reader now reaches out to social media where the unvarnished truth is available. The hoi-polloi might be happy with  a diet of lamb, but wool over your eyes reportage will not be found on this site.
This article is my second take on the RIFC accounts. Regular readers will note that I did not publish a Sunday Supplement article yesterday. Did I take my second day off from this site?  A second day of furlough from 407 consecutive days of service? No, I curated the 66 comments on the previous post and developed three more pieces for this week. I can only continue this dedication with the assistance of donations. I respectfully invite everyone to revisit the purchase of a virtual seat for the FBA awards, to make a donation, or to set up a regular monthly payment. The next seventeen days, and one report on the day after, should be instructive as to the viability of this site.I might choose to put my energies into writing The Secret Diary of Mark Warburton, as opposed to releasing it to all readers for free. The second instalment will be published tomorrow.
I digress. If it were not for an 11th hour payment of £2.9m, RIFC would have been on the brink of trading whilst insolvent and the auditors would be advising the rogue board to call in the administrators. There are several key artifices at the heart of the Rangers accounts. Insolvency is a situation where the debts are not collateralized by assets; where the debts outstrip the fair value of the fixed and intangible assets. At this point in time, with debts of £18m and a squad worth £9.75m, could Ibrox Stadium and Auchenhowie be sold to raise £8.25m? If one were to believe the rogue board, the combined value of these assets is £35m. However they have plummeted in value by 53.3% from their previous finger in the air valuation of £75m. Is a brownfield site in Govan worth the lion's share of £8.25m? How about six acres of former arable farming land with no planning permission for development? Rangers are loading up on debts that are being underwritten by a castle built on sand. CC King's assertion that Rangers are the most fiscally sound club in world football is a sham, just like going for 55, a choice of NOMAD and the investment of his mythical children's inheritance. Will the unemployed shareholders queue up at the AGM to give him a standing ovation on a second successive year of their equity being delisted and worthless?
King is The Pied Piper of Pish.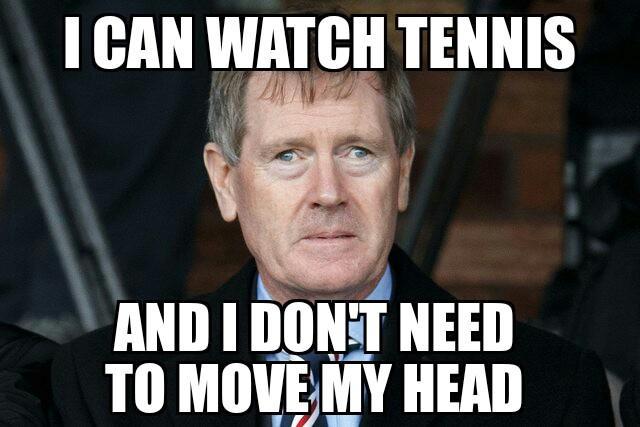 Since its inception in July 2012, RIFC have accumulated operating losses of almost £36m.Had it not been for their second key artifice, booking £20.5m of negative goodwill as a paper profit, this would be the fourth fiscal year of losses. Counsel for the rogue  board  asserted at Glasgow Sheriff Court that RIFC were £400,000 shy of breaking even.Had counsel been misled by the rogue board?  Should the former WiFi provider's petition to ring-fence RIFC funds have been upheld?
As is always the case with this rogue board there is no transparency on the source of the £2.9m. Is it another of King's money-laundering scams? Is he now laundering other people's money for 40p in the pound? Did Stewart Regan serendipitously book a spa weekend and spend his waking hours in a sensory deprivation flotation tank? Has he sought any assurances that King is not engaged in money laundering? Has he requested the 'bona fides' of the RIFC benefactors? Of course not. He does not care the square root of fuck all as long as he can sell a vital Rangers to his sponsor, William Hill, and keep his Mercedes S-Class company car in heated seats.
 No-one could ever accuse Scottish football of not being open for business. It's wide open!
The third of the basic artifices in the accounts is the unrealistic expectation of Europa Cup football next season. Can Warburton sur-la merde's team secure a UEFA top three slot?  If Hearts continue to shed points and Aberdeen capitulate at Ibrox, this may well be possible. Andrea Traverso's letter of 8th June stated unequivocally that TRFC is a new club as far as UEFA is concerned. His letter also stated thar it was in the purview of the SFA to determine whether TRFC complied with the tenets and spirit of Financial Fair Play regulations. Auldheid perfectly encapsulated their imperfect dilemma in the following terms:
"Now this (is) where the financial rubber hits the integrity road because if the national association is driven by the fear of what will happen to the domestic game will be seriously damaging to it financially, are they likely to abide by the spirit of the rules and refuse a licence or find ways of reading the letter of the rules that let's them justify granting a licence when they should not?"
How can the SFA squeeze three years of successive losses under the UEFA threshold of five million Euros? What imperfect strategy can they conjure up to shoehorn Rangers into the Europa Cup? You can bet your best brown brogues it will be creative.
One of the most striking details in the accounts is the line item that £11,423,000 is due as a Trade Debt from season ticket sales which were procured using deferred payment plans or by quarterly direct debit. The majority of Rangers supporters pay for their season tickets in four tranches. Prior to Craig Whyte kicking the arse out of it, Rangers would turn to Ticketus and ask them to act as factors so as to release the bulk of these funds in advance.
£15.23m in season ticket sales has a VAT liability of slightly north of £3m. Was the £2.9m raised to pay off HMRC? If these funds were not forthcoming, the auditors could not have signed off RIFC as a going concern. Paying tax may be an innovation at Ibrox but auditors have a fiduciary duty to ensure that there is provision for corporate taxation.
If we assume that RIFC have removed the HMRC monkey from their back, how can they continue to cover a £2m per month burn rate? Players wages will have to be reduced substantially. There will be a supermarket sweep of players shipped out in the  January sales. Every player with a market value will be available. Warburton will do his best to ensure that the baby is not thrown out with the bath water, but he will almost certainly have to engage in loans to cover Waghorn and Taverner's absence. Barrie McKay is also likely to be in the shop window. Offloading Joey Barton will be first on Stewart Robertson's to-do list.
The impairment costs of £522,000 almost certainly reflects a write-off of RIFC's investment in Rangers Retail Limited (RRL). The RIFC share of RRL was valued at £587,000 in the accounts to June 30, 2015. The rogue board are playing the unilateral termination of the agreement with Sports Direct Retail to the hilt. This is the fourth artifice in these accounts. I anticipate that this will be kicked into touch in early December at The Royal Courts of Justice. Is £1m sufficient to cover the costs of this suit and a petition against the executives who signed the agreement with Ashley? Will the latter petition against Green, Llambias and associates only proceed if the rogue board's conveyancing consigliere can afford to instruct his colleagues at Anderson Strathern?
Is King banking on north of £4m in compensation to keep RIFC's head above water? Lord Carloway's decision not to establish a register of Judges' interests so as to preclude their appointment to matters where they might be compromised or conflicted has given free rein to the brothers in Freemasonry to extend a helping hand to the establishment club. I would not be surprised if the Judiciary was King's ace in the hole. The Scottish Judiciary have found for the establishment club on every occasion, whether it be in the Court of Session or Glasgow Sheriff Court. The fix is in.
Of significant concern is the inability of the rogue board to pay off loans with equity. All loans are now being kicked into the long grass and deferred. Since the hostile takeover there has been £12.95 raised in loan capital. When added to King's laundered £5m to pay off Ashley, the change from £18m is minimal. Should both law suits go south, will King be looking for a further £5m to plug a major hole in his financial projections?
The Going Concerns are Ongoing.