Dear Mr Lawwell,
I don't necessarily agree with all the sentiments expressed in the following photograph of a banner, and I would choose a more elegant expression than 'Hunskelping', but it is indicative of the fact that some of your fans are unhappy with the status quo: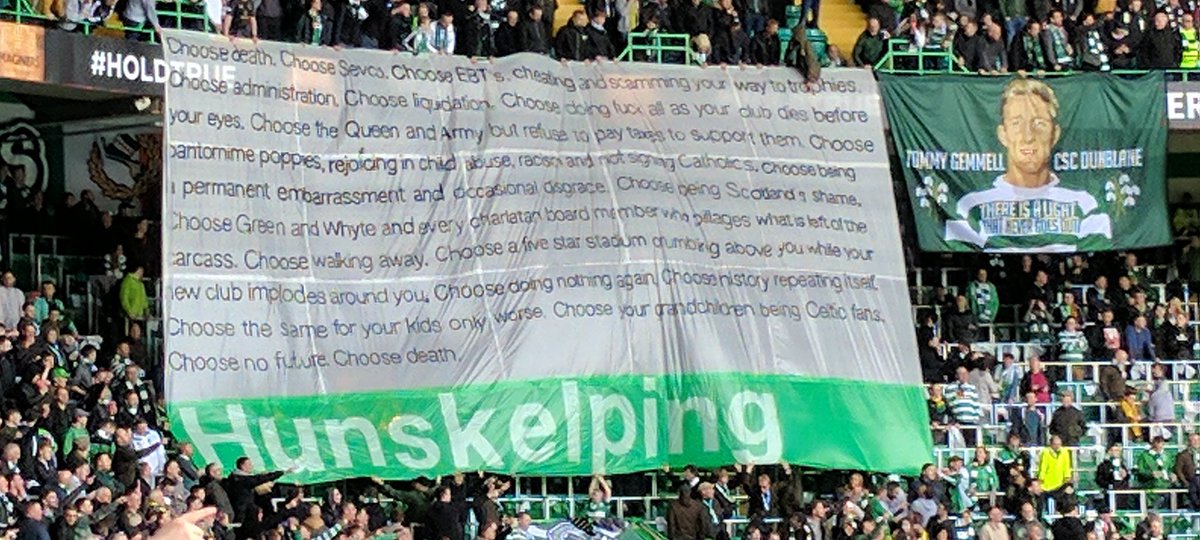 If your customers' concerns are not your concerns, don't be surprised if they turn their backs on you. Do you believe that you can abnegate on your responsibilities to your customers by providing them with the catnip of success on the field of play? Is success your panacea for the malaise and corruption at the heart of Scottish football?
To my mind it is not a panacea. It is a sugar-coated placebo. As the CEO of a PLC you have a duty of care to your shareholders. Some of these shareholders put a resolution to you and your board apropos Rangers being granted a UEFA licence despite an overdue payable of social taxes. This overdue payable should have prohibited Rangers from participating in UEFA tournaments in season 2011/2012.
Their unlawful participation came at a direct cost to Celtic PLC and its shareholders. Celtic missed out on at the very least one sold out home tie; or at the highest level up to £30m from the Group Stages, and perhaps a last 32 home tie, and although improbable even more.
The evidence by Michael McGill in the Glasgow High Court of Justiciary proves incontrovertibly that the DOS/VSS tax artifice had crystallised more than two weeks prior to the March 31st deadline. Rangers were ineligible to participate in UEFA tournaments while this overdue payable was extant. This overdue quantum was never paid.
Despite this Stewart Regan conspired with Campbell Ogilvie to grant Rangers a UEFA licence. They were either deceived by Rangers, which should have resulted in an SFA and UEFA sanction, or they were fully aware of the situation.
Stewart Regan wrote to Rangers, asking them for permission to issue a statement of lies to cover his exposure. He had engaged in lies to the detriment of Celtic PLC and its shareholders. Rangers did not allow Regan to go to print. The cosy informal relationship between Regan and the Rangers board suggests that he was implicit in their deception.
I challenge you to do the right thing by your shareholders Mr. Lawwell. Your organisation was wronged. You and your shareholders should seek compensation for the opportunity costs incurred. You should demand the resignation of Stewart Regan and his underlings whom perverted the issue of a UEFA Licence.
A licence to participate in the UEFA Champions League is a licence to print money. This money should have been the exclusive preserve, on that occasion, of Celtic PLC.
You and the shareholders you represent were duped Mr. Lawwell.
If the decision by the Inner House is upheld by The Supreme Court, the central plank of Lord Nimmo Smith's argument is removed. If EBT were not legitimate they were not available to other law-abiding clubs. Twenty titles were won using EBT artifice.
I contend Mr. Lawwell that it is your duty to have these titles expunged from the records. One should also consider compensation from the SPFL and SFA for their dereliction of governance during the period 1999-2011.
There's more to sporting life than the pursuit of seven or ten titles in a row. There is a responsibility to demand fair play. Rangers made a mockery of fair play and Scottish Football for a period 13 years. If Neil Doncaster continues to insist that Rangers are still the same club then they must be punished as the same club for cheating. Doncaster is lying to promote a commercial imperative.
It is high time Mr Lawwell that you take him to task.
Yours faithfully,
John James