In a previous article I referred to The Tartan Army as individuals who specialise in supporting mediocrity; a mediocre team that has not qualified for any World Cup Finals or European Championships since France 1998.
There was a sea change in Scottish football in 1988. David Murray paid a $1m cash bribe to Lawrence Marlborough and then set about destroying the game that we once held in high esteem.
He leaned on his cronies at The Bank of Rangers to put Celtic out of business in 1994. When McCann resuscitated the failing club he introduced two tax dodges to cheat his way to seventeen titles.
During this period of unprecedentedly tainted success, was there any ancillary benefits to the national side? No. Murray Inherited the spine of The England team and peppered his squad with players who earned their caps in other European countries.
The National team traditionally drew the majority of its players from those who turned up in light blue and green hoops on any given Saturday. They were augmented by the cream from Aberdeen and Dundee United, and those players such as Dalglish, Gemmell, Souness and Strachan who earned a better living in England.
Murray changed this tradition. Can one lay the blame solely at his door? No, there are other factors to consider when assessing a 19 years absence from the finals of major tournaments. One should also consider the gutless fraud that is Stewart Regan; a square cricket peg in a round football hole. Having expended the majority of his time creating a Frankenstein club, Rangers Lite, his creation bit the hand that fed with the recruitment of a motley crew of second tier foreign national journeymen. There is not one Rangers Lite player in Strachan's squad that will face Lithuania and Malta.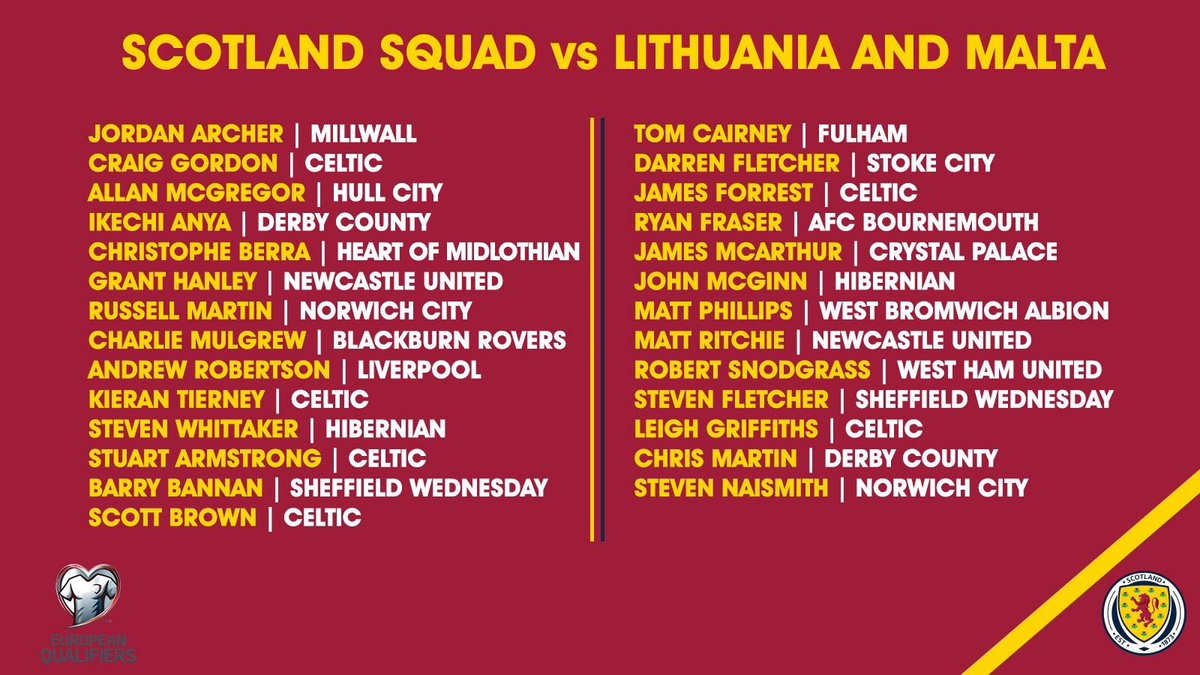 The absence of the WhatsApp group from Primark Pedro's caravan park in Auchenhowie came as no surprise, but I found Strachan's decision not to call up players from Scotland's second club, Aberdeen, somewhat puzzling. Aberdeen are on fine form with four wins out of four. They are scoring goals for fun. He might also rue his decision not to call up Callum McGregor who is playing his finest football under the tutelage of Rodgers. Rodgers has the Midas touch. He can make good players great.
Of my four teams that traditionally formed the core of the National squad only Celtic, with six call-ups, are represented. I would play five of these in my starting team, with Forrest coming off the bench to twist the tired blood of the defenders.
This squad will not qualify for the 2018 World Cup Finals. I do not want the inconsequential bounce game against Malta to be a sell-out. I want Regan, McRae and Petrie to squirm on their well-upholstered fundaments as the boos ring out on another 'glorious failure.' If Scotland lose to Lithuania, or the game fizzles out to a scoreless draw, it will be game over for the latest campaign of glorious failure. The budding mathematicians in our midst will grasp at sufficient strands to resolve Herzog–Schönheim conjecture, but the sinking feeling will be inevitable.
To gain the measure of Regan, one can revert to the 0-1 reverse to Georgia. There were eighteen seats on the contract hire plane with extra leg room.They should have been allocated to the first team. Regan was having none of it. He insisted that he required extra leg room.
To compound matters, the players were duly checked out from their hotel on the afternoon before the game. When news came through that their plane would be delayed until dawn, Regan checked back into his sumptuous suite and dressed for some fine dining with a large cognac as a night cap. He and his core cabal were then taken by limousine to the airport to stretch out on the superior seats.
The players' bus by contrast dumped the players off at the airport leaving them to sleep on the floor. They had no choice but to eat at Burger King which was the only food outlet that was open.
Regan thinks that he is the 'talent.' Having cheated Celtic out of their rightful place in the 2011 UEFA qualifiers, Regan turned up at the CL Group Stage Draw in Monte Carlo last week to bask in the reflected glory of a team that he had cheated. This gutless fraud has no shame
The cloud of a Lithuanian reverse will have a silver lining. A critical mass will develop to demand that Regan is dismissed. He should be pensioned off to watch cricket.
On a final note one wonders whether Stuart Campbell, who writes Wings Over Scotland from his Georgian pile in Bath, is suitably buoyed by the resignation of his nemesis, Kezia Dugdale? She will be a loss to Scottish politics. Now that Campbell has been exposed as an Anglophile who has resided in England for the majority of Scotland's two decades of glorious failure, will he remember to cheer for Scotland and not for his adopted country?
Dugdale may not have been a Corbynista. However she was not a fraud like Campbell.