As one awaits news of a judicial review one should note that the lies that are being perpetrated by the SFA and SPFL have already been exposed at The Court of Session. Charles Green told the remedial group known as 'the people' what they wanted to hear. He stated that he would be around until The Champions League Anthem, Tony Britten's rip-off of Händel's Zadok the Priest, as performed by London's Philharmonic Orchestra, rang out at Ibrox. Charles Green is not a young man. I venture that it won't ring out in his lifetime. Ceteris Paribus it won't ring out in the lifetime of anyone reading this blog.
Green spoke about buying the history as if it were a commodity that could be traded from one club to the next. He even pandered to the Orange Ordure recidivists in his milieu with plans to launch an orange strip. It was unadulterated bullshit washed down with lashings of hot Yorkshire tea, that he personally served to the press who lapped up more than his builders' brew.
Green, despite the best efforts of Dave King with his Charlotte Fakeovers and McCoist briefing the press against him, never lost site of his objective. He raised £22m in an IPO and cashed in on his shares at 70p a throw. Not bad for a new club playing against plumbers and postmen at grounds that could barely accommodate one man and his dog.
News reaches me from Charles that all is not well on the legal front. The cost of his defence against Jim Robertson's witch hunt is fast approaching half a million pounds. A significant part of this quantum was spent in a forlorn attempt to force RIFC to indemnify his legal expenses.
At this point we were confronted with the stark reality. A reality that exposed the lie at the heart of Scottish Professional Football: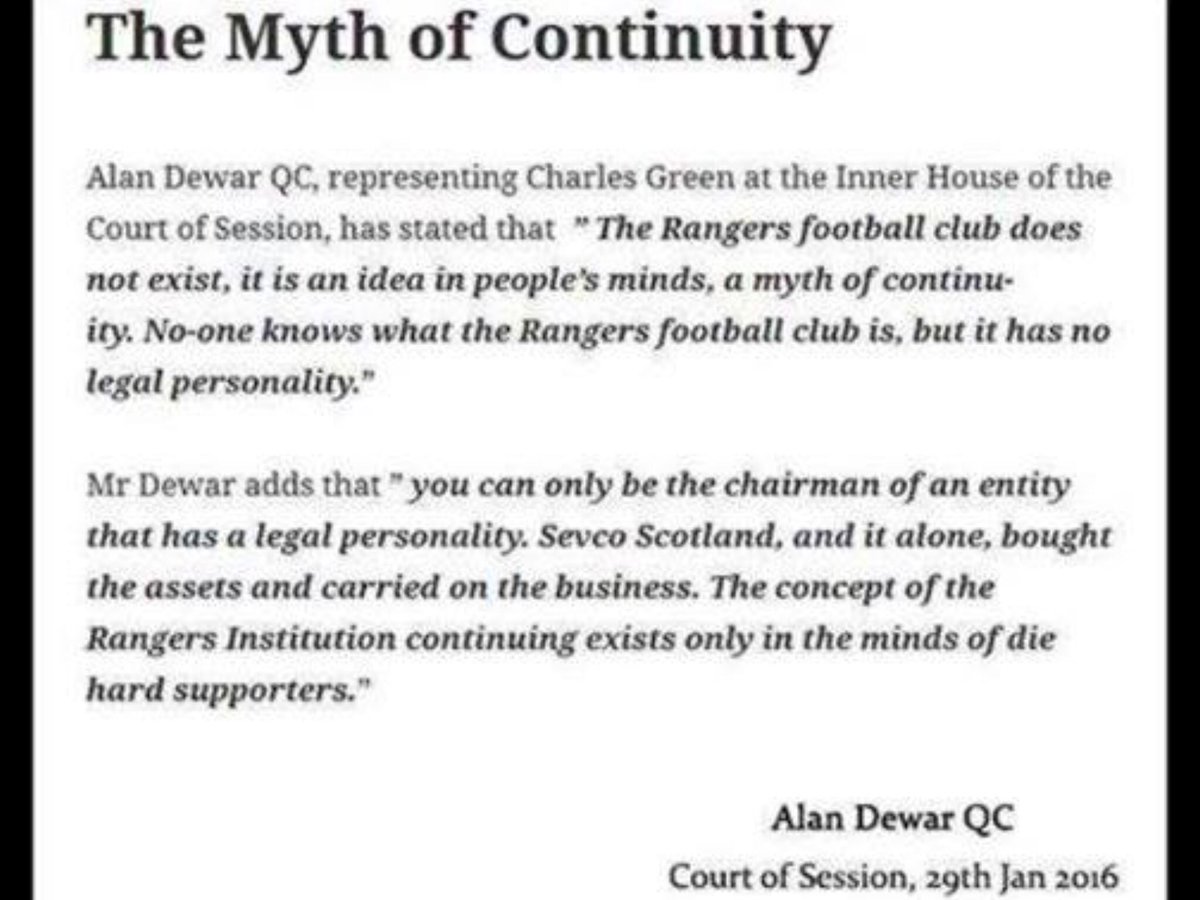 So clear and unequivocal? Still not convinced? How about Lord Brodie who decided that the myth of continuity was a Metaphysical Concept. 
However when one reverts to Alan Dewar's incontrovertible and unchallenged rhetoric it follows that there are die hard supporters in both the SFA and SPFL. Die hard supporters at the SFA who transferred the history of Rangers to The Rangers at the behest of Neil Doncaster. They perpetrated this fraud in broad daylight and they believe that they have gotten away with it.
So despite the legal ramifications that expose the myth Regan and Doncaster go out of their way to maintain this lie. They go out of their way to avoid title stripping lest it exposes their lie. The bookmakers and broadcasters who pay their bloated salaries are more than happy to exploit this lie. One of the latter group, BBC Scotland, has taken this lie to a new paradigm.
The BBC is to create a new channel, named BBC Scotland, as part of a plan which will see the "biggest single investment" in the corporation north of the border for more than 20 years. The channel will include an hour-long news programme, combining Scottish, UK and international news, at 9pm every weekday. Lord Hall of Birkenhead, the BBC's director-general, said it would begin broadcasting in the autumn of 2018 and would have a budget of £30 million, similar to the amount spent on BBC4.
First Minister Nicola Sturgeon, who has previously called for a new channel, took to social media to say there was "lots to welcome" in the announcement, adding that the new channel was progress and hopefully a "sign of new thinking". New pro-SNP thinking.
Lord Hall unveiling the plans asserted that Scotland should receive about £40m in new funding annually – £19m for the new channel and digital developments, and £20m for making network programmes. The corporation anticipates that spending on network programmes made in Scotland for a UK-wide BBC audience will rise from about £65m this year to closer to £90m over the next three years.
Lord Hall continued :
"All of this combined amounts to the biggest single investment by the BBC in broadcast content in Scotland in over 20 years. This will be a huge boost for BBC Scotland and for the Scottish creative industries. This is an exciting time for BBC Scotland and for the millions of Scots who love TV."
However will this innovation be stymied by the Rangers-facing toadies at Pacific Quay? Will the 'Huns With Microphones' fall silent? They have recently been using Scottish licence players money to solicit the views of EBT tax cheats Michael Mols and Ronald De Boer. They flew Tom English to Amsterdam so that Mols could opine that he would have played for petrol money.
If that is the case why does he not donate the £260,000 he received to charity.
Of course English did not ask that question as his remit was to undermine the clamour for title stripping.
Recently Ronald De Boer, with his £1.2m EBT, has been rolled out to opine on The Old Firm and his pick of the best Rangers player he ever played with. With 55 EBT tax cheats to choose from he opted for Mikel Arteta and his £674,603 EBT.
In what part of the BBC Charter does it state that tax cheats will be front and centre of BBC Scotland broadcasts? Does it not behove the BBC to set a good example for the tax-paying citizens of Scotland?
One of most flagrant abusers of the BBC's charter on balance is Kenny Macintyre. He is a real hard-wired Hun who makes no apology for creating what is effectively a Rangers podcast. He must be the darling of the Highland Huns who run BBC sport north of the border.
Now if one has had enough of Macintyre's Blue Utopia the ultimate sanction would be to stop paying one's licence fee. One could still watch BBC content on their I Player. The BBC failed in its attempt to link their licence fee to this application which is free to air.
Stop paying for Macintyre's lies, English's away days and Chic Young who has recently come out to reveal that he is and has always been a die-hard Hun. So much for his support of St. Mirren.
If you're in a boycott state of mind, don't stop there. Do not in any circumstances pay £20-£30 to watch Scotland toy with Maltese minnows on the 4th September. It's more one-sided than Sunday's  Mayweather v McGregor mismatch. The bookmakers have 'The Money' as 1/4 favourite.
Scoring five past the minnows at their Ta' Qali stadium leads one to anticipate that it will be no more than a light training exercise.
There is nothing crucial about this game as the SFA would have us believe. They are just trying to soak the Scottish football supporters for all their worth prior to yet another failure to qualify for the World Cup Finals.
Malta have scored 2 goals and conceded 15. Their six games have all been lost.
Boycott the SFA. Put Regan's nose out of joint. Don't pay for his extra leg room on flights. Tell him in no uncertain terms that he can stick the lost receipts from this 'crucial' match in the confidential file that was used to confer titles from Rangers to Rangers Lite.