Andrew Dickson of RIFC Plc and the SFA is corrupt. He should not be allowed to hold any executive office in a professional football club, far less exercise any authority with a governance remit. He and Stewart Regan have been exposed as participants in a rigged game.
A rigged game that allowed Rangers to participate in UEFA tournaments when they were incontrovertibly guilty of not paying their social taxes and had an overdue payable of £2.8m which had crystallised prior to March 31st, 2011; the first cut-off point in the UEFA  licence timeline.
However don't take my word for it. I invite readers to read the following confidential correspondence: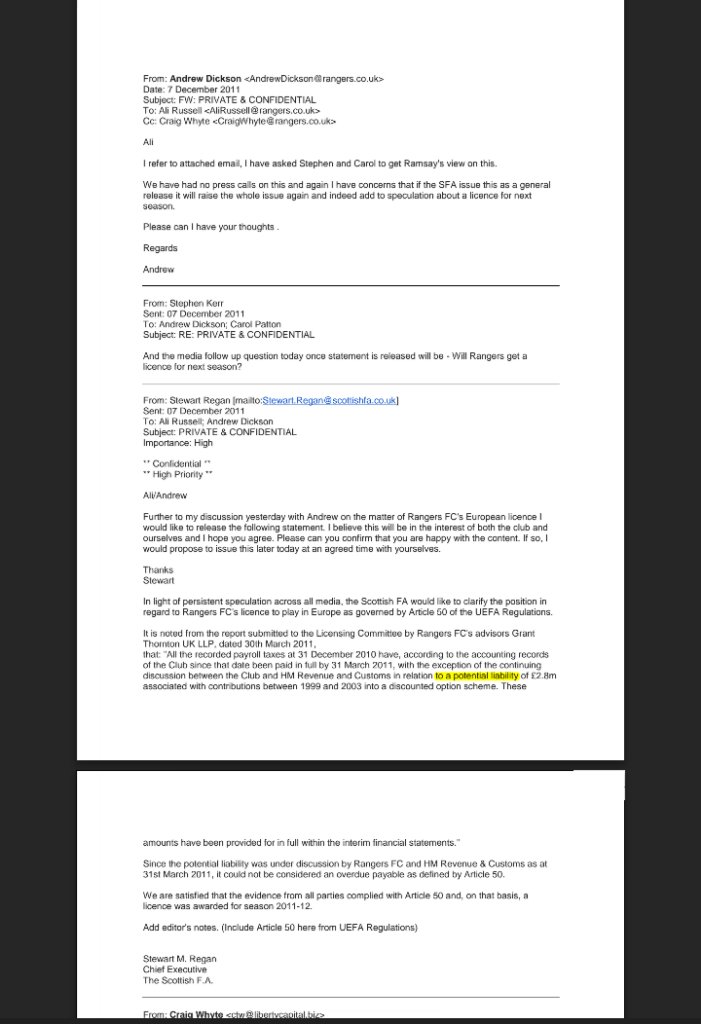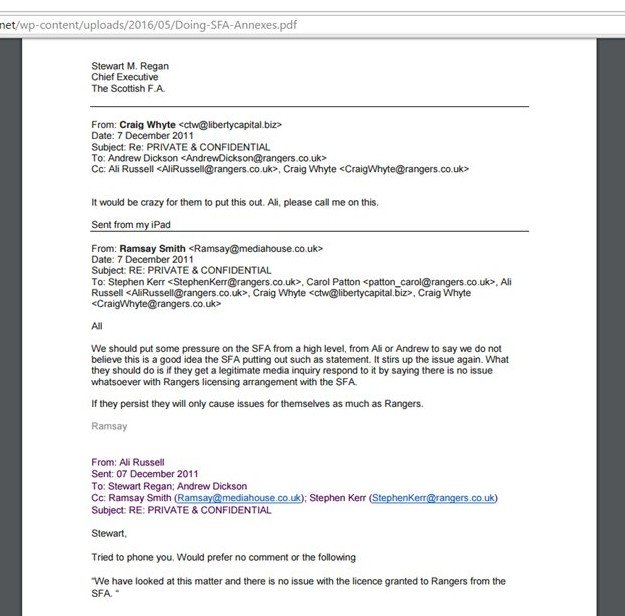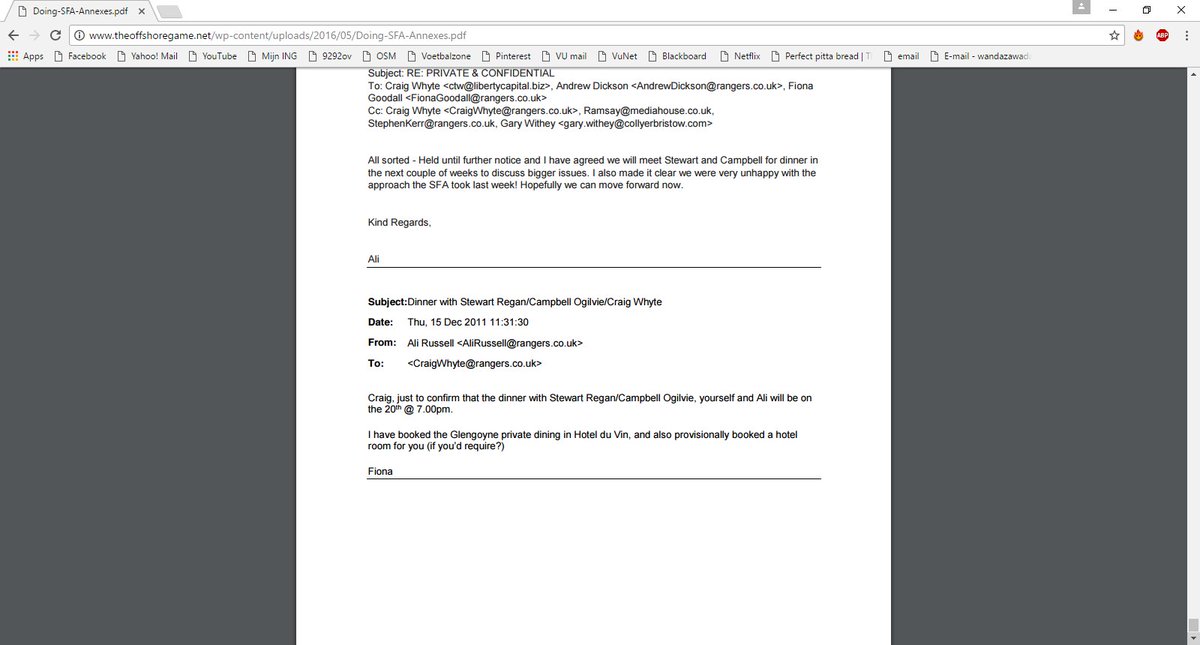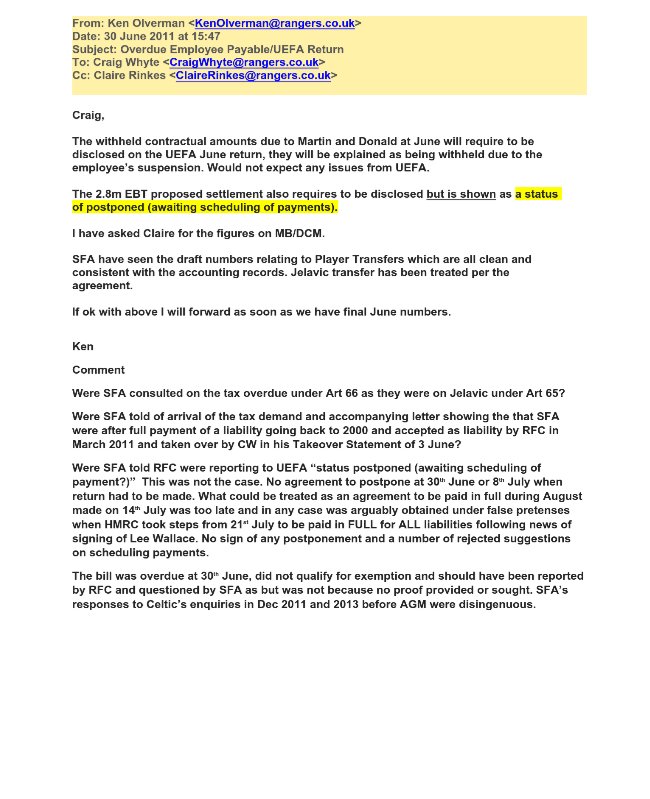 The comments that form an addendum to Olverman's e-mail are unattributed. Note the following:
" No agreement to postpone at 30th June or 8th July when return had to be made. No sign of any postponement and a number of rejected suggestions on scheduling payments. The bill was overdue at 30th June, did not qualify for exemption and should have been reported by RFC and questioned by SFA as but was not because no proof provided or sought. SFA's responses to Celtic's in Dec 2011 and 2013 before AGM were disingenuous."
Regan lied to member club Celtic that the debt had not crystallised. Testimony at the Craig Whyte trial proved that it had crystallised two weeks prior to the first cut-off at March 31st and was accepted as a liability.
Regan was lying. He either made it up or was instructed to make this mendacious assertion by Andrew Dickson or Ali Russell. Note the following instruction from Ali Russell to Regan:
"We have looked at this matter and there is no issue with the licence granted to Rangers from the SFA."
Ali Russell was instructing Regan to lie and he duly obliged. Let's get this straight. Rangers from 1999-2003 introduced a tax-avoidance scheme that was a means of disguising remuneration. After years of obfuscation and mendacity by Dickson and Mike McGill at Murray International Holdings, the bill for £2.8m was finally accepted when Andrew Thornhill QC instructed Rangers to pay. David Murray passed this liability to Craig Whyte. Grant Thornton, as per instructions by Dickson/Russell lied in their interim audit report to the SFA.
The whole sordid episode was put to bed in a private dining room at Hotel Du Vin with the primary factotum of the DOS/VSS scheme, Campbell Ogilvie, accompanying Stewart Regan in his capacity as President of the SFA.
The SFA did not request any proof of a schedule to pay off the £2.8m overdue. Regan is informed that if he releases a statement to cover his fundament:
He will be exposed as a liar and the Chief Executive of an organisation that either did not seek proof of a schedule of payments, or knew there was no schedule and were prepared to lie to cover Rod Petrie's team's decision to grant Rangers a licence. A team that included Andrew Dickson, who we now know will lie at the drop of a hat.
This is why Regan does not want a review of his incompetent and corrupt organisation. He was able to subvert LNS by withholding documents which would have proved that the SFA knew that Rangers were using EBT and were driving a coach and horses through registration regulations.
The SFA knew that for each and every game where a player's contract had not been registered, a loss for Rangers of 0-3 would have to be retrospectively applied.
The SFA covered up the cheating. When HMRC were forensically examining their files apropos the odious tax-cheat and Daily Record correspondent, Barry Ferguson, the SFA were informed that £2.63m of Ferguson's emoluments had not been declared to the SFA.
The SFA chose to brush this under the carpet on the instructions of Gordon Smith or Campbell Ogilvie, or more likely both. The two most senior executives of the SFA already knew that Rangers were cheating but even after HMRC intervention they allowed the cheating to continue. Craig Whyte brought the final curtain down on EBT tax evasion in 2011.
Stewart Regan is a Rangers lickspittle who will lie to order. He must go.