Dear JJ,
Salutations my old mucker. Am I allowed to reveal your age? Suffice to say that Red Adair is on standby should your birthday cake blaze get out of hand. The cake was a labour of love for Lady Bear. She loves nothing more than to bake some filth on her Aga. The frisky filly wanted to send you a photo of her wearing her g-string bikini bottoms and a snorkel on The Great Barrier Reef,  but I deemed this inappropriate. When I opined that you had not had your Nat King since the Big Bang, she demurred. A concatenation of heart, attack and age comes to mind.
However less of the courtship dances. Let's get to the meat and potatoes of my correspondence, namely Pedro Bless Yourself Caixinha. What an ass. His caravan seems a little dishevelled but to his credit he seems to have picked up a gypsy girl, or is that Russell Grant a.k.a. The Gay BFDJ? It's hard to distinguish between them unless one is hanging out at The Polo Lounge and is getting high on Poppers; and the other is at The Blue Lagoon with a baker's tray, as BFDJ uses his sausage suppers as an aphrodisiac to impregnate passers-by.
I digress. As you know there isn't a sectarian bone in my body and I don't care if Caixinha uses his rosary beads as draught excluders and that you have to endure The Stations of The Cross to get to the guest bathroom, but why is he acting the cunning stunt with Kenny Miller? Is Timmy Caixinha getting ahead of himself? Kenny Miller is an old school journeyman. I accept that he can no longer turn on a sixpence but he has the good grace to put it in the Ibrox gas meter. A light blue flame for the light blues is his mission statement. He lives and breathes Rangers, apart from when he played for Celtic. The least said about the latter the better.
I note that Mr. Bean has also had a go at Rossiter whose knees continue to decompose faster than his namesake Leonard who sadly died in 1984. Having a go at our resident leper is beyond the pale. Mocking the afflicted is unconscionable.
Pedro spent a whopping £1.35m on Dorrans but he is still giving it to him tight. Weighing in at twice this price is Carlos Pena who at £2.7m is one of the most expensive and hungover players to ever play at Ibrox. Surely a line of coke would be the ideal pick-me-up after a night on the tiles?  It worked for Gazza. The SFA won't notice and if they did what would they do about it? Would the cut coke be deemed imperfect but eligible? Probably.
It's high time he got a tune out of his midfield hoofers. As for Morelos, who bears an uncanny resemblance to Jock McClaren in Porridge, surely the truth about his rank ineptitude will set him free.
Pedro's Penal Colony has players training at 5 a.m. which does not suit his prodigal son as he is being poured into a taxi at that time. No wonder Miller has the hump.
When Rafa Benitez was at Liverpool he was referred to as the 'fat waiter.' Is it just me or has anyone noticed the resemblance between Caixinha and a Cigar Store Indian:
Maybe we should give the CSI a white board and a marker pen. I envisage it making more sense than Caixinha. Sometimes less is more.
Things are so bad that I'm even missing Ally McCoist, The Constant Gardener: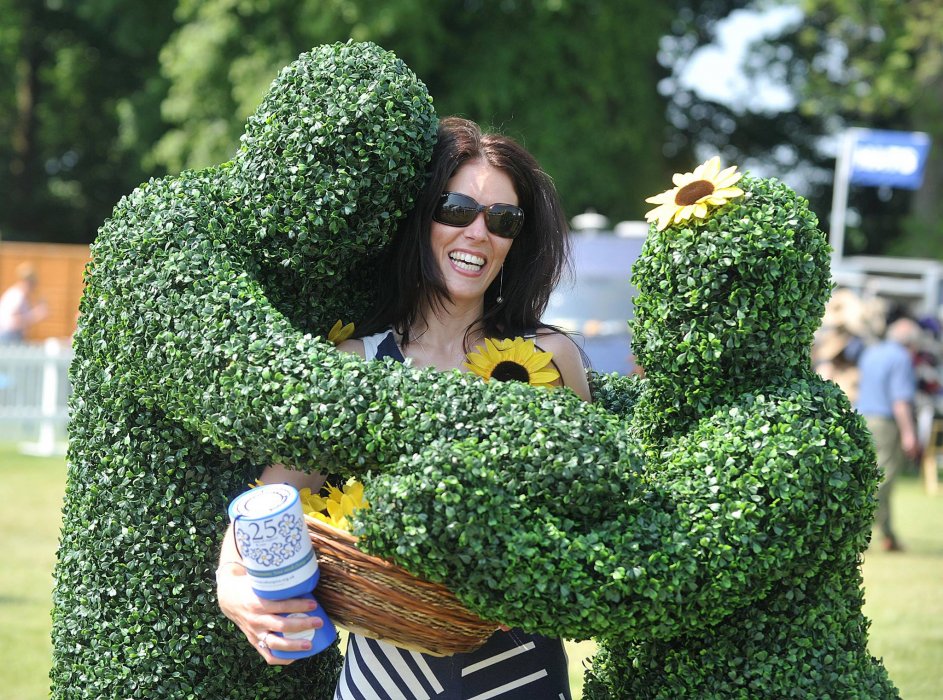 It's heartening to note that Ally still has an eye for the ladies. I'm sure that stirring in his shrubbery is just the wind. They should just march into Pedro's office and bushwhack him.
Anyway buddy I will have to go. I'm playing Baron Von Trapp to Lady Bear's Maria in our latest sexual role play fantasy. Natasha in Lederhosen singing 'I am Sixteen going on Seventeen' is hard to resist.
Yours in Rangers,
Edward (Teddy) Bear Esquire,
Home on the Range Estate
Chalfont St. Giles
Buckinghamshire
P.O. Box 1690
**************************************************************
Dear Teddy,
Good to hear from buddy. The Big Bang? How droll. Lady Bear is looking ravishing.  Send her my love and my unstinting gratitude for her cake. I had settled for a Mr. Kipling apple pie with a single candle but Natasha's Battennurg is so much better. After one slice I felt like putting on some Wagner and invading Poland.
Primark Pedro should keep his own counsel. He seems addicted to the media attention which is unerringly flattering. Is he as stupid as he looks or is his intelligence lost in translation? Kenny Miller who has had a closer look than most calls him 'Banger.'  I'm sure rumours that Kenny's WhatsApp group had a whip-round to send Pedro on a coaching course at Largs are ill-founded.
The biggest concern about Pedro is his penchant for spending money that Rangers Lite cannot afford. My well-placed source is adamant that the rogue board is trading whilst insolvent.
With so much spinning going on at Murray Park – a fitting tribute to Sir Bribe & Lie – it's difficult to discern the truth behind the puff pieces. The prosaic figures are as follows:
Primark has spent £8.73m and offset £2.75m of this via player disposal, giving a nett expenditure of £5.98m. Of course only about 40% of this quantum was required by way of a deposit this season, but it's still burning a £2.4m hole in Douglas Park's pocket.
Pena: £2.7m; Herrera: £1.53m; Cardoso £1.35m; Dorrans £1.35m; Morelos £1.08m; Candeias £720,000.
Alves and Jack were free transfers. Declan John is on loan.
This is the core of Primark's team. When one adds Foderingham, Tavernier ,Wallace and Windass you have a first eleven and subs. The rest of the bench consists of colts with whom Kenny Miller has been ordered to train. Miller's days are numbered.
To exacerbate matters the foreign recruits are all picking up north of £1m in salaries with four of their number drawing down £1.5m
Douglas Park was hoping for a cash neutral transfer window but was quickly disabused of this notion when Barrie MacKay's disposal only realised £500,000.
One can understand why the rogue board are giving Primark free rein to hog the limelight as it is a convenient sop to divert the hapless hacks away from the real problems under the bonnet.
Real problems that could lead to the end of this failing project.
The entertainment will be fascinating should Doncaster try to confer the titles won by Rangers to Rangers III.
To paraphrase BFDJ I'll love you and leave you (holding the baby).
Yours in exile,
JJ
p.s. I trust Lady Bear is singing a la Julie Andrews and not The Richard Gough remix featuring The St. Vincent Street Toilets Rough Trade Rent Boy Choir?