Regular readers will know that I am one of the most outspoken critics of what passes for the fourth estate in the SMSM. The Evening Times is a Rangers Ra Ra skirt with a print motif. Its most 'esteemed'contributors are Halloween Houston and Big Fat Derek Johnstone. The latter was accurately described by Chris Sutton as a Rangers cheerleader: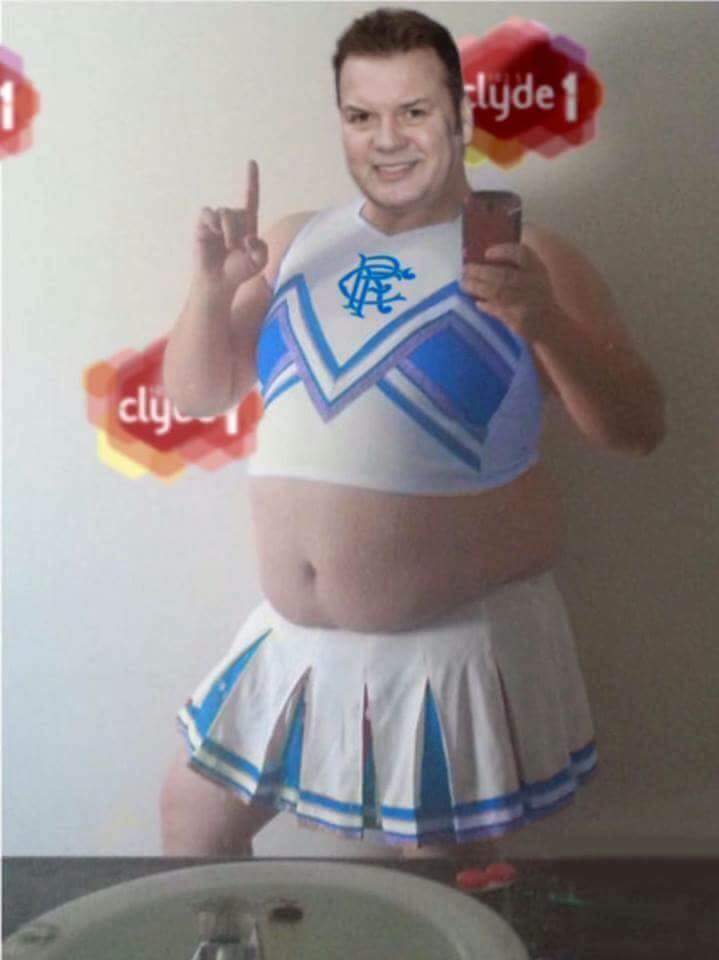 Chris Jack, whose pre-pubescent looks are reminiscent of child actor Jack in Lord of the flies, describes himself as a senior sports correspondent. I guess you can call yourself Rangers if you try hard enough and he'll get no argument in Clotted Weir's team. Jack's Rangers fanzine is a poor facsimile of Slim Jim Shady's favourite, Follow Follow.
'Follow Follow' caters for those who spend their blue pound from a pink purse. The Gay Gordons of the Rangers Lite support are drawn like honey bees to their Queen bee, Mark Dingwall, as he holds court in The Polo Lounge or Delmomicas in the throbbing gay heart of The Merchant City. Not that there's anything wrong with 'putting from the rough.' Richard Gough led the way with his procurement of rent boys. I would like to think that these fallen young men of the night were all over the age of consent. It would take a concerted effort by the SMSM to conceal statutory homosexual rape. Richard Gough was hastily married when news broke of his nocturnal predilections. Some said it was a redolent of an arranged marriage. One would like to think he met his bride prior to the big day. He is now a father. Did he join the Scientologists or revert to IVF like the odious McCanns?
I digress. Some of my most excoriating of invective has been aimed at Keith Jackson. His coverage of the aftermath of the Rangers Lite v Hibs Scottish Cup Final beggared belief. He mendaciously asserted that the Hibs fans assaulted the Rangers players. Career criminal King was vying for a replay. Traynor was his hired gun. Jackson their lickspittle journalist.
Laura Miller, Kenny's wife, took to social media to expose Jackson's lies. Did Jackson not even watch the BBC coverage? Was he on the golf course when the call from Slim Shady came through?
The facts were that the Hibs fans celebrated like it was 1902. It had been 114 years since their forefathers had celebrated winning The Scottish Cup. The Lite-facing Glasgow press had been telling them all week in the run-up to the final that Hibs would 'bottle it.' Hibs turned up in some style, prevailing in a five goal thriller with an eleventh hour goal. Their celebrations were as spontaneous as they were effusive.
However this stuck in the craw of the Lite support. Two hundred of their number, drawn from the criminal classes, took to the field with murderous intent:
The majority of them were sent down. The Vanguard Bears, a rival of Follow Follow, solicited funds from their readers to pay fines. They were seduced by the Traynor/Jackson narrative that the worst in their milieu were defending the players.
"It was the least they could do."
Chapeau to Slim Shady. He successfully traduced the Hibs fans while exonerating the Lite scum. Did he get a bonus from King?  Did he have the good grace to buy Jackson a pint?
However it would seem that the cosy relationship between Traynor and his man-child is at an end. Jackson has upped his game. He is an avid reader of our site. His information on Kenny Miller has been drawn from my exclusives. Kenny Miller is not Jackson's snitch. My source is the mole, the snitch if you will, not Miller.
An excerpt from Jackson's latest piece is instructive of the developing fault lines between The Record and Level 5:
"To make matters even more sinister, Miller was also accused of leaking information directly to this newspaper on a website which has very obvious and well-established links with the malfunctioning Rangers PR machine.
The same website, for that matter, which leaked news of Caixinha's Murray Park meltdown in the first place – while presenting it as a stroke of managerial genius in a painfully transparent, Pravda-esque attempt at controlling the narrative."
Slim Shady Traynor has been posting his skewed rhetoric using an alias on 'Follow Follow.'
Jackson ridiculed Traynor by describing Level 5 as Pravda-esque. He cast Traynor as the co-conspirator, with Stephen Kerr, of a malfunctioning Rangers PR machine.
It was good to see Keith grow a pair and take Traynor's subterfuge to task. I can assure readers that there will be no Gay Fandangoes or planted information on this site. I will continue to go after the perpetrators of crimes and those who make concerted efforts to conceal them.