Those of you who follow my Twitter feed were given a hint of one of my most explosive exclusives. I'm not referring to Pedro's dismissal and plans to dust down The Cardigan with Miller as his number two. Nor am I referring to Pedro's severance payment which I understand is six months salary. What I'm about to reveal will render these exclusives as inconsequential.
A Qatari company is behind the recent player acquisitions made by Pedro. The quintessential British club is being propped up with a lease back deal from a company operating in a rogue Arab state.
Did anyone really believe that the 'Penniless' career criminal would put his hand in his own pocket? Even his ursine concert party chums could not stomach the capital expenditure. However Pedro, who was hired on Skype, had an interesting solution, one might call it revolutionary, to bring players such as Pena, into the fold.
The fact that the real movers and shakers in the Middle East have ostracised Qatar for supporting terrorism does not seem to bother the career criminal. This could lead to an interesting conflict on Forces Day:
Will the players bought by the ISIL financiers sabotage the abseiling bigots? Will the roof literally fall in on this Sectarian Fuckfest?
When it comes to Rangers Lite the truth really is stranger than fiction. As I understand matters Pedro was only due three months salary in severance, but this was doubled for him to keep shtum about The Qatar Connection.
Which leads one to King and his ursine friends 'out'. They are planning to sell out to Qatari money. As no-one will touch the Qatari riyal, what better way to launder it than via the quintessential British club, with the SFA guaranteed to look the other way?
I wonder how Stewart Regan now feels about approving King as fit and proper?
Won't this all come out in the accounts that have been diligently prepared by Campbell Dallas? No it won't. It took a crack team of forensic accountants to unravel the Off Balance Sheet Financing at Enron. This sordid deal would have been kept under wraps. For a quick heads up on this artifice there is no better port of call than Investopedia:
"In off-balance-sheet financing, large capital expenditures are kept off a company's balance sheet to keep the debt to equity (D/E) and leverage ratios low, especially if the inclusion of a large expenditure would break negative debt covenants. Examples of off-balance-sheet financing include joint ventures, research and development (R&D) partnerships, and operating leases, where the asset itself is kept on the lessor's balance sheet, and the lessee reports only the required rental expense for use of the asset."
The lessor in this case being a shadowy Qatari outfit.
Those reading our site today may be disappointed that there is no report on the actual game that so dismayed the career criminal who was sulking at the back of the South Stand. It could be summed up as The Moult Show. Moult so bossed Alves that all the latter could do was to kick him, repeatedly. One of BBC Scotland's cabal of EBT recipients, with a £190,000 tax-dodge under his belt, opined:
"Billy Dodds, BBC Scotland summariser at Hampden Park:
If the ref spots it, Alves is gone, 100%."
Moult even tried his luck with a shot from his own half. It did not find the net. Alves' response to this impudent strike was yet another kick. Did our man in Qatar finance his deal? Money for old Qatari rope.
Plans were well-advanced to present an AGM prior to the November 26 Final. The Gullibillies would have been so seduced by thoughts of silverware and ending Celtic's invincible run that any discussion of King's impending Cold Shoulder would have been swept away on a thermal of back-slapping rhetoric.
However the career criminal has The Cardigan up his sleeve. When the shit really hits the fan who better to call on than a Real Rangers man?
As one knows from reading this site, Primark Pedro has a penchant for calling his opponents 'A Cheating Cunt' then hiding behind a melee of players like the girly-man that he is. He was up to his old tricks last night. Steve Robinson did not take too kindly to this descriptive epithet and threatened to piss on him. Robinson would have wiped the floor with Mourinho's Mannequin. It was fortunate that they were both sent to the stands to separate them as Primark's teeth were on the endangered species list.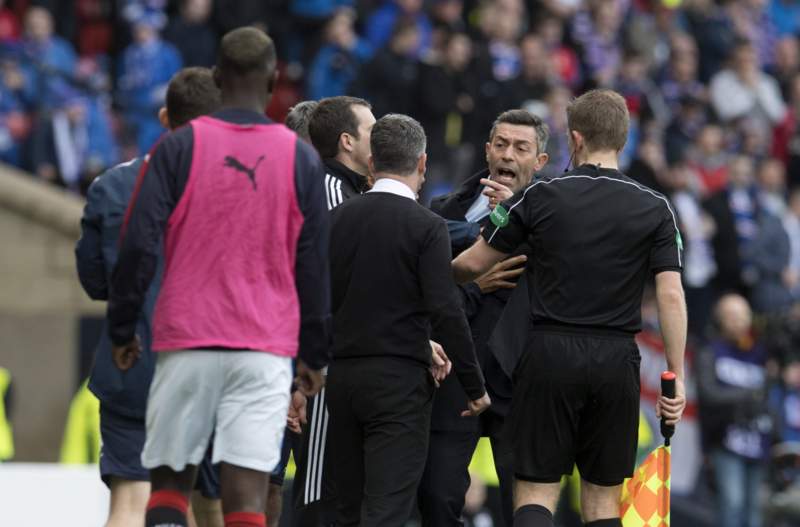 One wonders what was more uncomfortable for Pedro: Being in the dugout watching his Qatari-owned players being taken apart by a provincial club? Or being in the stand with King measuring up his body for its internment?
Call me Mr Bright Side but Primark should console himself with the thought that no-one ever really dies at Rangers. They are just reborn, shorn of debt and ready to ride on money that was siphoned off from the ISIL fighting fund.
We have had bread wrapping adorning the heads of the Gullibillies at Ibrox. Will there now be strict segregation of women? Will Burkas now become de rigeur? Just the very dab for slipping out of Murray Park unnoticed.