Prior to a more detailed look at the Rangers Lite accounts – a forensic Crime Scene Investigation if you will – one takes pause to congratulate Brendan Rodgers and his History Bhoys. Regular readers will note that I coined this term when Celtic equalled Willy Maley's record. With yesterday's commanding win in Perth they have written their names in the British football record books. Thoughts inevitably turn to when this record-breaking run will end. Can they go through a second consecutive season undefeated? The style in which they have achieved this record, regularly scoring 3 or more goals, suggests that even some honest mistakes from Bobby Madden would not be enough to derail their trophy-laden goods train. Is a back-to-back treble on the cards?
Aberdeen's draw was not the end of the world. Being only 3 points adrift of The Invincibles after 12 games is no mean feat. McInnes, and everyone else for that matter, now know that the basket of assets in Govan is a basket case. It would be a graveyard for any ambitious manager. McInnes will keep his powder dry until a better offer than Sunderland comes along.
As for Rodgers the sky's the limit. He might even be considered for the dead man's shoes Arsenal job when Wenger inexorably drops his clogs.
However I have not come to praise Rodger's Caesar. I have come to bury King. I have had a look around at other exercises in analysis, including Martin 'Engine-Room Subsidiary' Williams having a go in The Herald, but they fall short in capturing the Criminal Zeitgeist at Ibrox.
No less than a Chartered Financial Analyst stepped up this morning on our site with the following take:
(1) much has already been made of the £3M payment made to Ashley to rip up the retail agreement. If you look at page 45 of the report, you will see that Rangers Retail Limited earned slightly north of £1M after tax last year. The year before showed a similar, slightly smaller sum. 50% accrues toward Sports Direct, and 50% goes to RIFC. So the £3M payoff to terminate the agreement represents approximately 6 years of future profits that Sports Direct would have expected to receive. This is essentially a buyout. Ashley got the full value of the deal, upfront, guaranteed, and also the opportunity to sign a new deal for the same time period! This is a much different story than what was presented last June. Moreover, King arranged for Real Rangers Men to buy Ashley's shares at 27p while he was preparing his defense from the Takeover Panel case. Remember, part of his defense is that the 'market' price of the shares is more than the 20p he would be required to offer, and nobody would take that offer. But the question arises, at least in my mind, whether that 27p was really the market rate at that time, and whether this should be treated as part of the cost of terminating the Retail contract with Sports Direct. Did King arrange for Ashley's shares to be purchased at above market rates, and do so as part of the overall compensation offer of terminating the Retail deal, simply so he could create his own feeble defense before the crown?
(2) Looking at the Key Performance Indicators on page 12, one thing that is conspicuous by its absence is any mention of the Europa League Qualifier played at Ibrox on June 29. That match is obviously part of the 2017-18 season, but the Accounts are for the 12 months ended June 30, not for the 2016-17 season. That's a small distinction, but it matters to accountants and auditors. The revenue recognition principal is for matchday income to be recognized as matches are played. Yet there doesn't appear to be any disclosure that Rangers recognized the revenue from this match in their accounts.
(3) Page 36 outlines the assumptions they used in the forecast period when they tested for impairment of fixed assets (Ibrox & Murray Park) and intangible assets (brand value). This year's disclosure is more detailed than prior years, and a couple points stuck out: (a) their baseline assumption is that they will make the group stages of the Europa League at least twice in the next 5 years, and failure to do so would result in an impairment charge against their fixed assets, and (b) their player salaries can grow by no more than 3% above their forecast or they will be forced to impair their assets. From experience, I can tell you that 3% for an exercise like this is considered rounding error. But more than anything, these two things indicate one major conclusion to me: their forecast assumptions are right on the breaking point of being credible and yet they just barely avoided an impairment charge.
(4) Trade Receivables, disclosed in Note 14 on page 46, contained a detail that I found highly unusual, though not necessarily problematic. They are owed £12.5M from merchant service providers relating to season ticket sales. As this is over the summer period when season tickets are being renewed, that would be the likely culprit and an obvious explanation. However, IFRS rules prohibit the creation of a receivable when performance obligations have not been met — i.e. revenue recognized, assets transferred, etc. In other words, this £12.5M is cash that is owed to RIFC for matches played in the 2016-17 season. Going back to the KPI's on page 12, total season ticket revenue was £13.6M in total for the season. It seems more than a little unusual that the overwhelming majority of season ticket revenue from last season still had not been collected by June 30. Something else must be going on here, and the obvious explanation is that it does indeed represent a receivable for the upcoming season. But that would be a pretty flagrant violation of IFRS accounting rules that a first year accounting student would spot immediately. Maybe someone else can chime in here…
(5) On page 39, we can see revenue was £29.2M, and ongoing structural cash operating expenses consisting of staff costs, Other Operating Costs (policing, stewards, pitch maintenance, and other matchday costs), and hire of plant and machinery totaled £29.7M. RIFC are operating at a permanent, structural, cash flow loss. And that excludes expenses for player acquisition, regardless of whether one wants to measure that via amortization or cash outlay, as well as expenses for other capital outlays, interest expense, one time charges to terminate the Sports Direct deal, one time charges that occur annually to fire their manager and his staff, etc.
(6) Lastly, the disclosure of NOAL and the relationship to King found on page 57 changed from prior years.
Last year's disclosure: " Oasis Asset Limited is a company controlled by the Group Chairman, Mr D King."
This year's disclosure: "New Oasis Asset Limited is a company in which the Group Chairman, Mr D King and his immediate family are interested."
When one looks at the last sentence of this year's report, we learn that NOAL has extended the repayment date of their £6.7M interest-free loan to July 2019. Ordinarily, trustees would be obliged, by law, to invest the trust assets for a financial gain for the benefit of the beneficiaries, particularly if one of them is penniless. It's a legal quagmire for the trustee, and the only way for the trustee to avoid any legal problems would be to obtain assurances from the beneficiaries, in writing, that they won't hold the trustee accountable for such negligence. But one thing is for certain: I am sure that such consent has ABOSULTLEY NOTHING AT ALL to do with the change in language regarding one Mr D King being merely 'interested' in the trust as opposed to it being outright 'controlled' by him a year ago.
COMMENT ENDS
King and his hired mouth-on-a-stick Slim Shady Traynor have been caught with skid marks on their grey Y-fronts after this forensic debagging by Benjamin. So much for a hard-fought favourable result with SDI. King paid Ashley off in full for six years of the seven years notice period, with the final year ticking down as I write.
There is also the curious case of James Blair recommending the purchase of Ashley's shares to Club Tropicana at 27p a throw, which one could reasonably conclude was part and parcel of the severance deal.
Ashley has skewered King, turned him over in a rotisserie, and stuffed an apple in his mouth for good measure.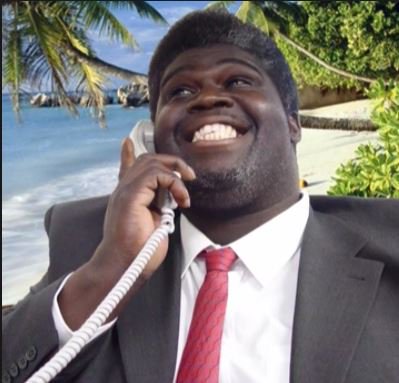 As I wrote some time ago, James Blair attended the Takeover Appeal Board hearing where a price of 20p was established, but as he changed hats when checking in as secretary of Club Tropicana, he recommended the significantly higher price of 27p. I'm sure this salient detail was not lost on Blair as he reviewed King's affidavit to the Court of Session. You cannot keep a good career criminal down.
One would like to think that the £12.5m owed in point 4 of Benjamin's analysis has not been ringfenced by a Qatari factor? Perish the very thought.
I like nothing more than some semantic juggling as in point 6. Is King so slippery that he is the Limpopo All-Comers Champion of Jello Wrestling? Is he impossible to pin down, just like the roofs of three stands which require major refits? £800,000 might be a sufficient quantum for a bribe to secure a safety certificate but it won't make any material difference to the precarious three roofs.
Which leads me to the final conclusion of this piece. It's unequivocally evident that the concert party directors are all-in. They are tapped out. Their last concession was to postpone the due date on their loans.
The future of Rangers Lite is in Career Criminal King's hands. What could possibly go wrong?