An impeccable source has informed me that the beleaguered board, who don't have a BVI dollar between them, reached out to The Cardigan to steady the listing ship until the end of the season. They were astonished when Mr. Smith O.B.E. EBT turned them down flat. My source did not add that Uncle Walter wished them every success with their new club as was his wont.
Does The Cardigan realise that the task at Ibrox is a poisoned chalice? Even Pea-Souper Ally has asserted that it would not be a good time to pick up the reins. Not as bad as when he was manager of course when he did 'walking away' to ensure that he picked up his full £750,000. What's the world coming to when a light blue suit and buffed brown brogues are not guaranteed to secure three points?
Walter could do with a bob or two. He has been in The Court of Session this week suing his former personal adviser. One would like to think that it has nothing to do with his Rangers EBT bung while he was at Everton. One would have to colour me surprised should his business affairs adviser not reveal the succulent details of The Cardigan's tax artifice in court. But even thoughts of HMRC induced penury won't force his hand.
A cynic might conclude that Uncle Walter is prepared to wear a mask when trousering a bung, but he is no Batman. My exclusive news will come as a relief to fourth officials everywhere as Walter was known to froth at the mouth and cover them with phlegm when delivering some robust admonishment. Playing tonsil hockey with a screaming Blue Meanie should not be part and parcel of an official's remit at The Sectarian Speakeasy. It might lead to a strike and a break-out of fair officiating from foreign shores. Heaven forfend that the Scottish game should be played on a level playing field.
Someone who shares my antipathy for the rogue board, The Clumpany, wrote the following:
"A well-placed source informs me that the Sevco High Command met in urgent dignified conclave after today's Quintessentially British defeat to the mighty Hamilton.
The Serious Professional and a magnificently-maned factotum reached south of the Limpopo to insist David Cunningham King dialled in to the staunch sit-down.
The call was sponsored by OPM, and the reversal of the charges reflected the reversal in the fortunes of the five-year old basket of assets moulded into Sevco FC by founding father Charles of Normandy.
The sensible faction in the blues-stricken Blue Room had been backing Graeme Stuart Murty to replace Pedro Miguel Faria Caixinha as the cut-price wearer of the dignified managerial brown brogues. However, today's entirely Academical set-back had put a spoke in their un-Cunningham plan.
Unfortunately for the sensible faction, the more determined Rangers men had not forgotten their vocal support for Murty, and a free and frank exchange of views followed.
The Serious Professional – who (like the Admirable Warburton) seems a decent guy doing a tough job – attempted to bring some focus to the deliberations of the People's dignified leadership. He invited the board to decide whether it really could muster the cash to make a formal approach to Derek McInnes or else stick with Mr Graeme Stuart Murty.
I understand that there was then a very awkward silence before one particularly brave Blue Room veteran said that it all depended upon whether David Cunningham King was prepared to over-invest in the manner that the stenographers had suggested, following the high-Level encouragement of an intergalactic PR guru.
My source informs me that there were audible gasps when the staunchly-brave individual said "Dave, it's time to put up or shut up."
It was then a huge disappointment to all concerned that the line from South Africa suddenly became extremely crackly and the Chairman's dignified response was inaudible.
Meanwhile, Sevco remains a loss-making business without a credit line from a bank.
>>>>>>
F*ck. I've posted this on the wrong blog, haven't I?"
TC has produced a perfect spoof of Phil Mac's somewhat florid reportage. I can sense another outing for his NUJ membership card, where as someone not engaged in journalism at any title, he is a lay member.
It's also the perfect folly to those who think that Phil Mac and TC are one and the same. That would be the same sentiently-challenged individuals who assert that the redoubtable The Mensch is my alter ego. I guess it would be convenient if The Klan could put all their taig eggs in one basket. Is a two-headed bheast more easy to decry than two individual bheasts?
Let's cut to the chase. The beleaguered board don't have a British Virgin Islands pot to piss in. The pie-in-the-sky reportage about going after McInness was a Level 5 production. It's a two-pronged trident. On one level it gives the impression that Lite are a big club which has the wherewithal to attract the best. Green eyes in brown brogues are looking at Brendan Rodgers with a disquieting envy. The second prong is to unsettle McInnes prior to the back-to-back games with Aberdeen. Will the rogue board continue with Slim Shady's second prong or are they under pressure to unveil any old fossil prior to the AGM?
That fossil won't be The Cardigan. In the interim we await the Donegal blogger to assume the dimensions of a fly and buzz his way onto the Blue Room's wall. He has thirty thousand Twitter followers who hang on every word of his purple prose. If The Clumpany had added the words 'Chimera' and my personal favourite 'Plenipotentiary' to his spoof, one would not have been able to pass a cigarette paper between them.
All we need now is for BFDJ to turn up to tell us the board should take their time.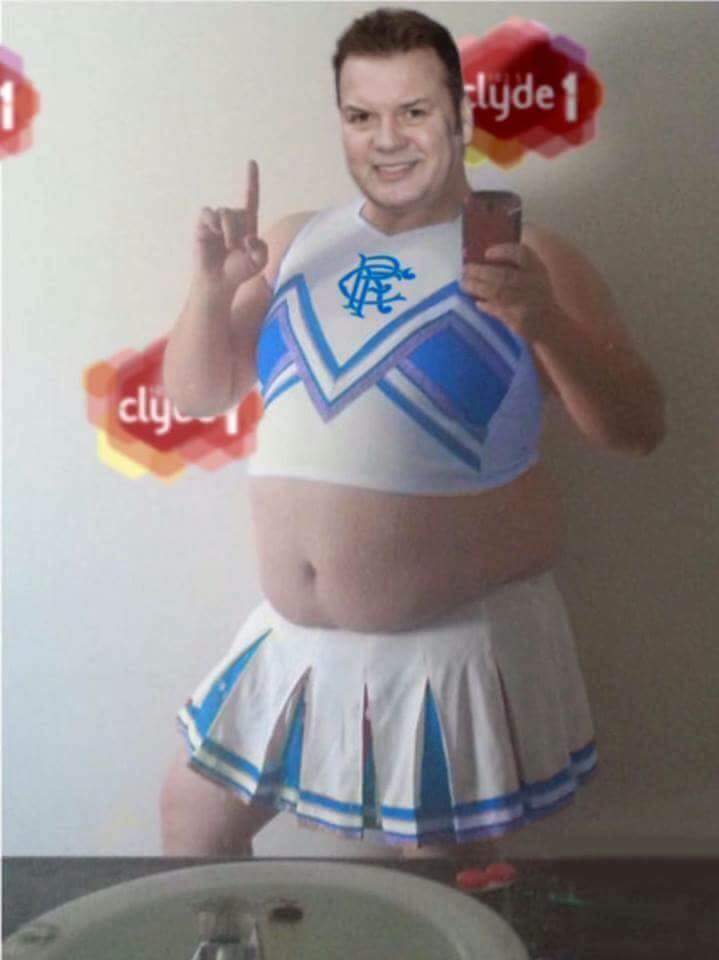 Right on cue, our Rangers Lite cheerleader – Lying then, Lying now, Lying forever– dusted down his Rangers-ra-ra skirt and rehashed the old routine.
The Imposter is a hard act to follow. That kind of comedy gold is difficult to find. Just like BFDJ when the CSA come calling.