1. A Rangers player with an STD and sheriff officers turning up at Murray Park to repossess cars. 
2. Peter Robinson offering Craig Whyte a peerage in The House of Lords for a 'donation' of £250,000.
3. A rival team owner whom had previously offered to throw a game against Rangers to help them win the league.
4. How many of the referees were Rangers fans which resulted in some favouritism from officials.
The aforementioned four tweets which I have now deleted from my Twitter site –@sitonfence – are from the prologue of Craig Whyte's book treatment. They caused a frenzy of activity on Twitter. Some accused me of engaging in a spoof. I refer them to today's Scottish Sun where Craig Whyte rails at my leak. The Sun claims to have the entire document. Forgive me if I demur as they have merely listed the aforementioned bullet points word for word. What they cannot tell you is that one car was repossessed to settle gambling debts.
As explosive as these four tweets are, they are just the tip of the iceberg. Each chapter has its own executive summary with more of the same. As an old hand at breaking exclusives even I was astounded. Craig Whyte goes after a number of targets. His ghostwriter, former Sun reporter Douglas Wight, does not miss one
Mr. Wight is the author or ghostwriter of ten non-fiction books, most recently the autobiography of former snooker star John Virgo  and an updated edition of the autobiography of former world champion boxer Nigel Benn. His previous books include The Laundry Man; a narrative about a Miami lawyer who became a money launderer for Colombian drug cartels and the Mafia.
Whyte and Wight's 35 page collaboration was sent to four publishers with a view to structuring an agreement to take White's insights to print. There is the possibility that they won't bite. If my Twitter activity is anything to go by there is a demographic that cannot wait to get their hands on it. This demographic is drawn from a wide spectrum of fans with the exclusion of Rangers Lite fans. The latter cannot handle the truth. The interest of Celtic fans is the most fervent.
Those praying that it won't be published include Sir Bribe & Lie and the SFA and the then SPL. David Murray comes out badly. But then what did one expect from a jumped-up spiv who paid a $1m bribe to Lawrence Marlborough to facilitate his equity sale. A bribe revealed exclusively by your humble correspondent.
One wonders if Neil Doncaster is having sleepless nights. White reveals that he had a conversation very early on in his tenure with Doncaster and Rod McKenzie apropos a 'solvent restructure' which would have entailed White ring-fencing all the assets in a new company to protect them from the £75m EBT fallout. McKenzie gave this idea a green light more than six months prior to administration. Doncaster was lying through his back teeth when he claimed that the first he had heard news of the impending financial calamity was when it broke in the press on February 14,2012.
The proposed titles of each chapter/executive summary are instructive:
1. Scotland's Youngest Self-Made Millionaire.
2. Sliding Door moments.
3. Mid-Life Crisis?
4. 'My Deal.'
5. You Must Be Mad.
6. Red Flags.
7. Great Expectations.
8. From Private Jets to EasyJet.
9. Inside The Blue Room.
10. Across The Divide.
11. The Beautiful Game?
12. A Perfect Storm.
13. Administration
14. Treachery.
15. Public Enemy Number One.
16. The Battle For Rangers.
17.  Shafted.
18. 'You Are Sevco.'
19. Not Guilty.
In a departure from my normal modus operandi, I do not intend to release 4-19 'free to air.'  Yesterday's exclusives were read by 15,796 visitors. They generated just south of 41,000 hits. Less than one hundred of these visitors have contributed to our site.
Our site is supported by forty-five or so inordinately generous contributors. Others believe that £1-£1.45 per month is sufficient recompense for exclusives such as:
A.The arch-criminal Dave King paying £25,000 for William Stevenson's hack of Craig Whyte's hard drive.
B. The Minutes of The SPL meeting which discussed LNS recommendations.
C. A forensic day-by-day account of The Trial of The Century which defied reporting restrictions.
D. David Whitehouse lifting the lid on COPFS and Police Scotland.
E. The public money squandered by DCI Robertson and his pert blonde assistant Jackie O'Neil as they chased their tails across the globe.
The Executive Summaries in 4-19 are explosive. I re-read each three times. The minimum annual subscription to The Sitonfence Speakeasy is £5 plus PayPal fees. I will not send these explosive executive summaries to any readers who have not ventured this minimal amount. I would ask those who have supported our site to venture the same amount. If a change of circumstances precludes this then a donation of one pence should suffice. Each PayPal subscription should include an e-mail address that I will use to remit the document.
As for my unwaged and disadvantaged readers, bear with me. I will send your free copies after I have dealt with those who are waged.
I have put up with the freeloaders for far too long. Should they not pay their dues they won't have access to Premium Copy. Those who have written to me saying they will never pay can remain in the dark.
They will have to settle for our readers comments on the key findings. I will redact these if necessary.
Is it not high time that you treated yourself or a loved one to a Sitonfence Speakeasy subscription?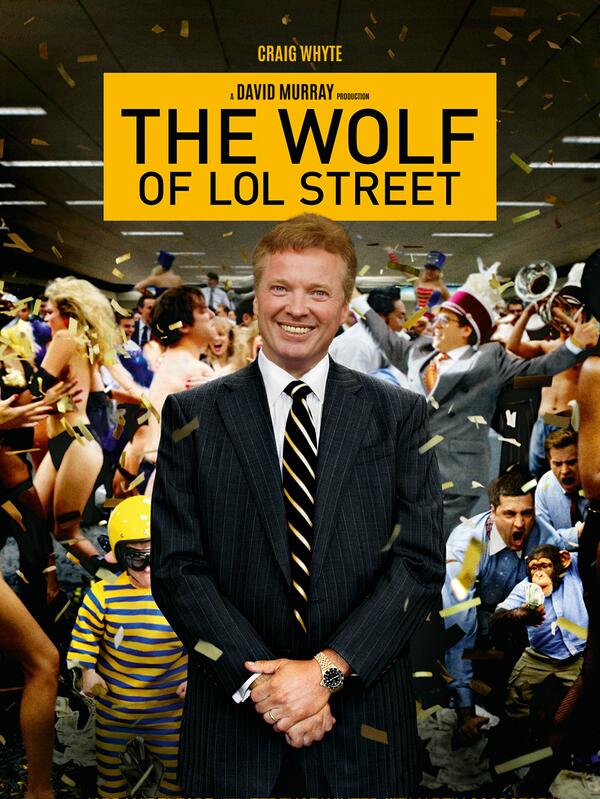 Executive Summaries 1-3 and the Epilogue are as follows:
Chapter 1: Scotland's Youngest Self-Made Millionaire
Craig Whyte's love for business deals formed at fifteen when he began trading in the financial markets. From an early age he had been interested in making money and he began reading books on how to trade. Before he left school he'd made £20,000.
Craig grew up in Motherwell, the home of Scotland's steel industry but a place on the cusp of a catastrophic collapse. He started life as a fan of his local team Motherwell – the Steelmen – and went to games at Fir Park with his grandfather. His father owned a plant hire company and his mother ran a baby wear shop. In a time of industrial decline and mass unemployment, the Whytes were a striving middle class entrepreneurial family. Craig attended a private school in Glasgow and it was there that his affection for Rangers FC developed. As a teenager he had a season ticket at Ibrox in the Copland Road stand as Rangers struggled to keep pace with Alex Ferguson's all-conquering Aberdeen.
Craig left school at sixteen and worked for his father, continuing to trade shares on the side. When his dad sold the firm in the late 1980s, Craig started his own plant hire business. He was just nineteen but, bolstered by a £60,000 bank loan, set up his business in the beating heart of Glasgow's market trading heritage – the Barras. For two years he enjoyed success, making £100,000-a-year. Then the recession of the early 1990s hit and Craig got his first taste of failure. Over-borrowed and capital starved, he became a victim of the construction industry downturn and was forced to wind up the company. From the ashes rose a small debt free company and Craig had learned valuable lessons in corporate turnarounds.
He formed a second a plant hire company but diversified into service businesses, providing cleaning, security and labour under the banner of the Custom Group. By the late 1990s the firm boasted an eight-figure turnover, he had an apartment in Monaco and drove luxury cars. Now, when he visited Ibrox to watch Rangers, it was from the comfort of the hospitality lounge and a box in the club deck, as David Murray's revolution of the team turned them into a domestic powerhouse that strived to compete with Europe's finest.
By the time Craig sold the Custom Group in 2003 his business acumen had attracted attention. He had been included in a book on business and the Sunday Times labelled him Scotland's youngest self-made millionaire. Recalling those days as a young entrepreneur, Craig tells how these were boom times. But at the same time, his minor involvement with another firm that went bust was to have major repercussions years later.
Chapter 2: Sliding Door Moments
A company in which Craig had been a shareholder, not a director, went bust owing money to the tax office. In the fallout from that case, Craig was disqualified as a company director for seven years, even though he hadn't even held the position. The debt involved in the case amounted only to around £20,000 but to fight the legal action would have cost him £100,000.
Recounting the first of two 'Sliding Door' moments, where his future fortunes seemingly hung on inconsequential decisions, Craig tells why he didn't fight the judgement. At the time he thought little of it. It did not curtail his activities and he considered it part of the rough and tumble of business. However, his decision not to contest the judgement would come back to haunt him.
On a personal level, Craig was, by this time, a settled family man. He had married partner Kim and they were the proud parents of two daughters. The arrival of a son would complete the family in 2008.
Craig continued to specialise in taking over failing businesses. In some cases it was a messy practise. Several firms he was unable to save but he grew a reputation as someone able to turnaround failing companies.
A colleague offered him a deal to join Merchant House Group, a stockbroker and asset management in London. From 2008 to 2010 he built up a substantial financial services business that boasted a billion pounds under management.
In June 2010 Craig was in his office overlooking St Paul's Cathedral talking to George Cadbury, of the chocolate making family, about a deal he was doing for a client to buy a club in Scotland. Craig's interest was peaked. In the second moment that would change the course of his life, he asked: 'Which club?'
From that moment on life would never be the same again.
Chapter 3: Mid Life Crisis?
At the moment Craig first heard about a potential deal to buy Rangers from David Murray, his contacts were trying to raise money in the Middle East. He asked George Cadbury to keep him informed.
When Cadbury informed Craig the deal had fallen through Craig told him he might be interested in putting something together.
Craig explains here how at the time his marriage had collapsed. He admits he might have been experiencing some kind of mid-life crisis to want to get involved with a football club, but he couldn't resist.
Through Cadbury, Craig was introduced to property developer Andrew Ellis, the son of a former QPR Chairman, in a pub in Knightsbridge. Ellis was enthusiastic about the deal. For Craig, who had watched Rangers play in the Champions League at Monaco, it was a chance to build on and further the fortunes of his boyhood team.
That Rangers had been experiencing financial problems and were having problems with the bank was well documented but what Craig didn't fully appreciate was precisely how perilous were the club's financial straits.
The issue for Craig was how to find the money to finance such a deal. He enlisted the help of a broker colleague, Phil Betts, an expert in asset financing. The deal to buy Rangers consisted of £5.5 million for the equity and £27 million to pay the club's debts.
Initially Phil Betts couldn't find anyone willing to fund it. Craig thought that was the end of it. A week later however he came back and said he had found the finance required.
The source of the funds was Octopus Investments, the parent company of Ticketus – a name that would soon be synonymous with Rangers FC.
Epilogue
Craig feels disappointment that to this day he remains the only person connected with Rangers during the blackest period in its history that has been brought to trial, when others committed clear fraud in taking over the club.
Potential legal routes are open to him to right the wrongs put upon him by the SFA and current members of the Rangers' board. He considers his options in this closing chapter.
As he reflects on the most tortuous period of his life, he acknowledges that he was doomed from the start. Rangers will always be considered an establishment club and he was never considered part of the establishment.
He assesses what he could have done differently and says but for a few small episodes that went against him, he could still have been Rangers' chief executive to this day.
Looking at the wider picture, as Celtic and fans of rival clubs cling to hopes that Rangers might be stripped of titles won during the period when the EBT scheme was in operation, he insists Rangers have been punished enough – and he pours scorn on the clubs who voted for his old club's demotion from the Premiership.
And as he picks up the pieces of his career, which only now is he slowly starting to rebuild, he explains his reasons for wanting his story finally to be heard.