An impeccable source has informed me that an unofficial approach by Rangers Lite to land McInnes has been rebuffed. The financial quantum offered was comparable to his current deal at Aberdeen. Lite are a basket case with a divided squad, some of whom such as Pena think that they are on an extended vacation. The beleaguered board who are under pressure to find a manager prior to the AGM naively assumed that McInnes, as a former player, would have buffed up his Rangers-issue brown brogues and marched smartly up Edmiston Drive. With so many knockbacks the board should look to Darryl Broadfoot for some succour on how best to deal with them. Broadfoot is not one to Mone about it. Does anyone want to manage this basket case of assets?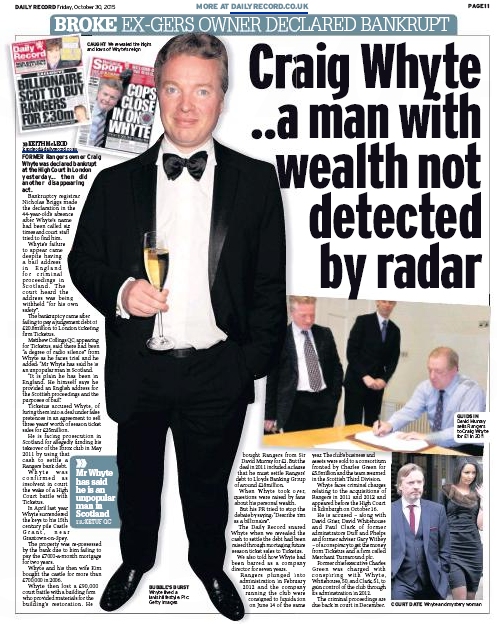 Someone who was assumed to be mad to buy the basket case has captured the zeitgeist at our site. The majority of readers who have recently subscribed should have now received your premium copy. As I have clearly stated on a number of occasions all payments and donations are handled by PayPal. However a 'payment' by PayPal is more difficult to process than a donation. Those who have missed out should proceed directly to PayPal to make a token donation and highlight their subscription details. Some have had the audacity to claim that this is a hassle and that as it is 'our site' they should automatically receive their copy wrapped in a bow. I cannot deal with this indefinitely. One more day and we move on. I will not approve any comments which complain. I have waited 18 months for many of my readers to show up, so why can one not just spend a penny and be patient? Despite assertions from a fantasist who has made a career out of making things up, I do not reside in the UK. I have no need of any backbiting from a would be terrorist. After one more day I will solicit one penny donations from my less fortunate readers. Please do not jump the gun as I won't process anything until the waged are fully satisfied. If you do your payment will be passed over.
My Legal Eagle in Edinburgh opined that some of Whyte's assertions were very actionable. Some of his allegations have stirred up a hornets' nest. Whyte's ghostwriter wrote:
"A company called MCR had been helping with the financial management of the club. During the course of Craig's dealings with the firm, its partners were negotiating to sell MCR to the American investment bank Duff and Phelps. What Craig didn't know was the same partners stood to earn millions from the sale providing Rangers went into administration.Therefore, at the same time MCR partners claimed to be acting on Craig's behalf during negotiations with HMRC, they were actually telling the tax office to put the club into administration and appoint them as administrators."
However as our International Man of Mystery, DCI Robnerstson (aka Phileas Fogg) and his Pert Passepartout Jackie O'Neil discovered the U.S. head office had never heard of Rangers. I trust Jackie had time to purchase a 'Kiss Me Quick' hat during the five day trip to attend a one hour meeting. With so much free time one would hope that their relationship was strictly professional and that the only intercourse was of the social variety? Would a Masonic two-step be deemed overly familiar?
Whyte could not quite believe the number of freeloaders in The Blue Room looking for a nosebag and malt on match days, all of whom were putting their thumbs over second and third knuckles as they nailed their Freemasonry colours to the mast. As one not initiated in the craft, Whyte was somewhat bamboozled.
His head continued spinning in his dealings with Charles Green. His ghostwriter continues:
"With his options running out, Craig spoke to a contact in London called Imran Ahmad. He introduced Craig to Charles Green, a former footballer-turned-businessman who had caused controversy at Sheffield United. Craig asked Green if he was willing to raise funds and front up a bid to take control of the club. Due to the antipathy towards him from Duff and Phelps, HMRC and the SFA, Craig had to remain in the background. Green agreed. Craig bought a shelf company called Sevco 5088 that made an offer to the administrators of £7.5 million to buy Rangers through a CVA, or £5.5 million for the assets if the club was liquidated. When no bidder was accepted – and despite a last gasp offer from former manager Walter Smith – the club was liquidated and the assets sold to Sevco in June 2012. Unbeknownst to Craig, Green set up another shelf company Sevco Scotland Ltd and transferred everything – fraudulently – from Sevco 5088 to the new company. Craig had been cut out of his own deal. The new Rangers had to apply to be re-admitted into the football league but the other premier league clubs, under pressure from their outraged fans, voted down their application. Instead the new Rangers had to start life at the bottom of the third division, a decision Craig describes as 'suicidal'."

This became known in Rangers folklore as 'The Switcheroo.' Writing as someone who has had the pleasure of corresponding with Charles Green I have always found him to be genuine and straightforward. He obviously gilded the lily during his time at Ibrox. One can but assume that the stalwart who whispered in Whyte's ear about maintaining the faux appearance that Rangers were a big club prompted Green to play to the gullibilly gallery with smoke and mirrors.
However there is a major flaw in Whyte's recollection of events. He did not have the £5.5m for the assets or the £7.5m for the CVA. Charles Green travelled the world to solicit funds. When the CVA failed he had no need of Whyte's 85.3% holding in Wavetower. He was not buying Rangers. He was buying a basket of assets.
Why would Green, who had done the donkey work of raising the funds, throw Whyte a bone? The only bones in the sales pitch are the ones Whyte is picking with everyone else.
Sir Bribe & Lie, with Dave King on the grassy knoll, assassinated Rangers. Whyte turned up when the rigor mortis had already set in.