The quintessentially clubbable Gullibillies who forked out a £500 joining fee and a recurring donation of £18.72 per month were promised a museum to take a gander at their ill-gotten financially-doped gains as conferred by the odious Ménage A Trois Ballantyne in a back of the house deal. Ballantyne, unlike his fellow Airdrie fans, is a hun with the bus fare. It was of course 'pie & bovril' in the sky. Just like the NOMAD, the proposed listing on ISDX and the sisting of the former professional football club from its file in the Canada Square offices of the well-heeled joint liquidators. With their fees I assume their shoes are hand-made.
The latest stitch-up from the Blue Room is the Directors' Equity Carvery. King did not 'jet-in' under his own steam to watch Little Bo Peep McInnes' team lie down like lambs to the slaughter. He is in town for more succulent fare. King is soliciting a fast million from the Bent Brief's Club 1872.
Their retained heads on a stick at Sevco Times were happy to spin out King's narrative to the aye faithful:
"Most Rangers supporters aren't millionaires, but they don't need to be because together we can invest millions of pounds in Rangers Football Club."
I assume they are referring to The Rangers Football Club Ltd which was incorporated in 2012. If it were not for their continuation smoke and mirrors they could be coining in £20.12 per month from those with more money than sense. The millionaires who have ponied up loans to RIFC will be well looked after, as will those with holdings of 3%. The Bent Brief James Blair, in a flagrant display of insider trading, assured all the significant stakeholders that they would be well looked after if they voted for Resolutions 10 & 11. I have notified the Department of Takeovers and Mergers apropos the Bent Brief's latest scam.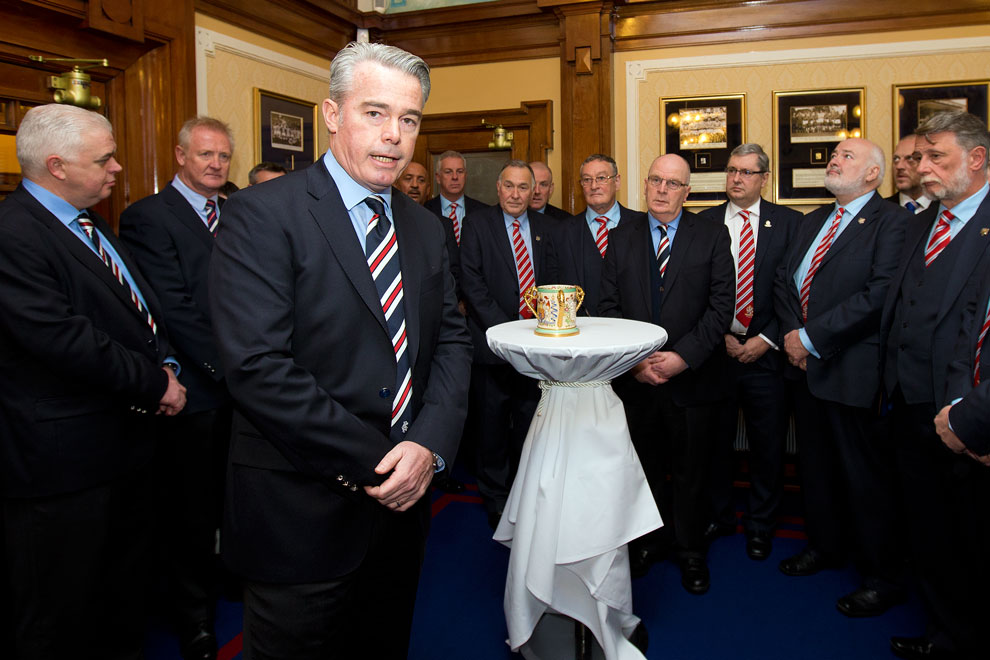 King was also in town to have first dibs on The Loving Cup. One can understand why he would pull rank to be first at the porcelain trough. Who would want to follow a French Kiss Quaff by Halitosis Halloween Houston? There would be more floaters than a primary school public swimming pool excursion. As for Sandy Prescriptions 'R' Us Chugg, things might take a decidedly psychedelic turn if he had a tab of acid on his tongue. Which would be apposite as the contributors to Club 1872 are being asked to part with their hard-earned to stand still. Perhaps they should promise 'Lucy in the sky with diamonds' and enclose a Chugg tab with every remitted begging letter aka prospectus.
Who would not want to pay top dollar for worthless shares? What's a million or two between friends to facilitate the Directors' Carvery? King will be slicing a good part of the 1872 heist rump, to be washed down with a Loving Cup Bordeaux.
With £7.2m to be found and loan deals to pay for, no sofa in Govan will remain intact. The Gullibillies will be in and out of the upholstery like potholers on speed.
Far be it for me to be the spectre at the Toby Jug Masonic Winding but those in Paternoster Square might call time on King's session.
In the final analysis will the Gullibillies pony up on a King steed that will pull up lame like so many of its stable mates.