I can exclusively reveal that Kris Boyd has been summoned to appear before the SFA beaks next week. The SFA are spitting blood apropos Boyd's latest opus in The Scottish Sun, viz:
"TAXI FOR MCRAE The SFA is in need of radical overhaul – starting with bungling blazers right at the top. What a mess Alan McRae has made of things. He, and his sidekick Rod Petrie, should be thoroughly ashamed of themselves. If I owned the local corner shop I wouldn't waltz into Tesco and start telling them how to sell fruit and veg. Likewise, if I owned a small car lot I wouldn't barge into Bentley and point out how to punt motors. So why then do we have someone like Alan McRae calling the shots in Scottish football? What a mess the Honorary President of Cove Rangers has made of things. He, and his sidekick Rod Petrie, should be thoroughly ashamed of themselves. No chief executive, no national manager and no main sponsor. It is utterly embarrassing. A national disgrace.
Getting rid of Gordon Strachan in the first place was a mistake in my book. But to do it without having a ready-made replacement lined up is nothing less than gross mismanagement. I was surprised to hear Walter Smith was willing to hear what the SFA had to say. I wasn't in the least bit surprised to hear he no longer wished to be considered for the role — fed up with the delay and dithering of McRae and his cohorts. Those tasked with finding a sponsor, a chief executive and a manager four months after Strachan was emptied are not fit for purpose. They cannot deal with big personalities, big names and egos. They shouldn't be anywhere near the job. But so long as they get to take their pals to all the big games, wining and dining them, shoving prawn sandwiches down their throats, nothing will change for the better.

Having been sold down the river by Michael O'Neill, the only course of action for Stewart Regan was to resign. He did so — merely adding to the woes of McRae and Petrie. As much as it pains me to say it, these guys must first appoint a CEO before they can even consider a new manager. What happens, for example, if they appoint a new boss and — when the new chief executive follows — there is an immediate clash of personalities? I want to know the identity of the new manager like every other Scotland fan, but we must first find Regan's successor.
Smith telling them to shove it should speed up that particular process. Clearly, O'Neill was the man they wanted but, after he pulled their pants down, moving for someone like my old Rangers boss should have been a no-brainer. The fact he was willing to talk to them should have seen him invited to Hampden during the course of the same conversation.
But this is the SFA we're dealing with and nothing is as straightforward as that.Instead they let Smith stew for a week before the man himself informed them he no longer wished to be considered.
It's another huge slap in the face for the beaks. I saw plenty of people opposed to Walter coming back. The same ones who don't want Alex McLeish near the job either. But ask yourself this. Why did they leave the Scotland job first time around? It was because they had been successful. They had improved performances, driven up standards and delivered results on the park — where it matters most. Walter would never have returned to Rangers in 2007 had he failed in the Scotland job. Similarly Big Eck would never had his move to Birmingham had he flopped as national boss.
To overlook someone like Walter would have been a dereliction of duty. They at least got the part about making contact with him right. But given his incredible achievements in the game, why the hell should Smith hang about waiting for the follow-up phone call that might never come? Do the SFA think that, at the age of 70, Smith has nothing better to do than sit by the phone and wait for their call?
It showed a complete lack of respect, perfectly in keeping with the mob in charge at Hampden. Smith seemed like the ideal choice. He commands the respect of the players, media and the majority of fans. Yet somehow the SFA have managed to b***s this up too.
McLeish would seem to be the last man standing now but I suspect he too will have deep reservations about the role. And why are the SFA only targeting men out of work? A comprehensive list should have been drawn up long before they ditched Gordon Strachan. Instead they put all their eggs in the Michael O'Neill basket.
The whole process has been one major disaster after the next and in any other walk of life those responsible would pay with their jobs. But McRae and Petrie are never going to give up their cushy number with the SFA. Not when they can glad-hand their way across the globe. Not when they have a free ticket for every big game going and not when they can show off in front of their pals in their executive lounges. No harm to the Highland League — or indeed any club in the lower echelons of Scottish football. But guys whose teams play in front of two men and a dog at weekends shouldn't be charged with making the kind of decisions that will impact on our game for years to come."
Boyd has been indicted on transgressions of SFA articles 66 & 71, viz:
Bringing the game into disrepute / failing to act in the best interests of Association Football / bringing discredit on the SFA.
Boyd' registration is with the SPFL, but that won't cut any ice with the jobsworths at Hampden. The SFA and SPFL identified 15 major areas of 'overlap' and published a document to this effect on 1st August 2014. This document was distributed on a 'need to know' basis. A cynic might suggest that there is so much 'overlap' that the SFA is redundant. Section 14 is instructive:
a) Each of the Scottish FA and the SPFL Limited will maintain rules in this Area of Overlap
(b) The Scottish FA would have primacy for dealing with any alleged regulatory infraction of its rules.
(c) The SPFL Limited would take no action in respect of any such alleged infraction, except in exceptional circumstances and where specifically authorised by the SPFL Board.
The SPFL board has many critics but it's truly representative of the power base in Scottish football. The SFA is a talking shop for small men from small clubs. So small that they had to write this document to create unnecessary primacy. SPFL regulation B1 would have sufficed.
So what has so exercised the beaks? Boyd has given Moribund McRae and Pathetic Petrie both barrels. Some might argue that his invective would not be out of place on this site. A pedant might suggest that his invective has pride of place. However regular readers might demur as when I go after a target, as was the case with Regan, my prose is so excoriating that it blisters the paint in their well-appointed corner offices.
It's a good effort nonetheless, let down by the myth of Walter Smith EBT. Walter received a tax-free bung for buying players from Rangers at top dollar when employed at Everton FC. Why quibble about price when you're on the take? He did not set the heather alight when plying his trade in the English Premier League. He did not inherit a winning team from Graeme Souness and he was not backed by a tax-evading bribe merchant.
David Murray aka Sir Bribe & Lie, had more strings to his corrupt bow than just DOS and EBT. They are the exposed tip of his iceberg of artifice. I would contend that he subverted the rules of Scottish football from 1988-2012, aided and abetted by the SFA.
Jim Farry was a bigot who would have had a picture of the morbidly obese pederast William of Orange on his SFA office wall if he could have gotten away with it. Ernie Walker was weak and a pushover for Murray. Gordon Smith covered up HMRC having a close look at Rangers' bent paperwork. Campbell Ogilvie and Andrew Dickson ran a coach and horses through SFA regulations to gain Pathetic Petrie's green light for a UEFA licence, with Regan riding shotgun.
The SFA have been incompetent and corrupt for more than one generation. Climbing their greasy pole is much preferred to a scenario where the chairman's wife washes the strips to make ends meet and at a club where there are more girls working in the pie and bovril kiosk than there are spectators on the exposed terracing.
In jj passim four days ago I inquired:
"Why are the chairmen of minnow clubs and the amateur game the big swinging dicks of Scottish football?" 
Boyd asks the same question in his piece. The answer is the incestuous selection procedures that reward length of tenure and a good attendance record at the mind-numbing committees. If you are good at talking shop about the minutiae of SFA regulations and swing the lead with aplomb, all you have to is nod approvingly when there are major beaks in the room to be fast-tracked at the SFA.
It does not matter if your club is so small that an array of hot water bottles passes for  undersoil heating as long as you show the utmost respect to your dear leaders.
McRae, who has difficulty keeping his tie out of his soup, cocked up so badly when conducting a Scottish Cup draw on 8th February 2016 that the Scottish Sun labelled his performance as a Shamballs. This clusterfuck of an omnishambles was featured on a live Sky broadcast. McRae, who left Hampden that evening without a word, had Darryl Broadfoot to thank for the following revisionist rhetoric:
 "I made a point of checking all the balls only three minutes before we went live. Everything had gone fine at the rehearsal.But, as always, I made an eleventh hour check to be sure the balls were all screwed tight. They were. Yet, somehow, one of them has popped open between the first draw made and the process of deciding the second tie. At that point there was nothing else we could do. The draw had to be done again. It was flawed. Listen, it's personally embarrassing. It was a shocker. Just unacceptable and it CAN'T ever happen again. I know how people are reacting to it, how it looks for Scottish football and the SFA. That hurts, but we now have to review the procedure and we'll do that tomorrow. The organising staff are mortified. I had no option but to go auto-pilot and apologise right away."
Might I suggest that McRae has been on auto-pilot since taking the chair of this corrupt cabal. Interesting to note how often he checks the balls. He was probably concerned that the frozen balls would melt under the hot studio lights. McRae's remit today after a Lite romp at Ayr more fitting of the nearby race course will be to pair Rangers with Falkirk or Morton at home prior to Lite's semi-final against Celtic.
Previous Presidents of the SFA always kept former club Rangers apart from Celtic in the draw to appease sponsors with an Old Firm final. New club Lite are not nailed-down to progress. The SFA therefore maximises its revenue with a semi-finals pairing with Celtic. I will be inordinately shocked if Lite are not drawn at home to a lower league club. It's what we have come to expect from the corrupt SFA.
Boyd could have gone further by inquiring:
"Is it a prerequisite of all candidates that they formerly managed Rangers and were in receipt  an illegal tax-free bonus by way of an EBT?"
But as someone who has supped at this toxic trough on a minimum of two occasions that just would not do.
One does not have to look far for an SFA stitch-up and concomitant cover-up. Regan was a past master at the latter, but how can Pathetic Petrie survive chairing the committee which approved Rangers UEFA licence in 2011/12? The buck stopped with Petrie. When pushed will Petrie burn Dickson and claim that the latter duped him?
The SFA compliance officer was instructed to investigate the award of a UEFA licence (to Rangers in 2011) on September 8th of last year. More than five months has elapsed. Has he presented his internal report? Is it so explosive and damaging to SFA incumbents that it's being obscured from public view?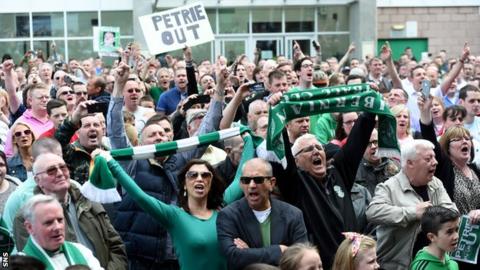 When Regan refused an SPFL request for a review of the SFA's role in the Rangers debacle it was unprecedented. He and his corrupt cabal would have been exposed.
The Tax Justice Network's report – Doing SFA For Fair Play – was the report that the SFA feared most. They did their utmost to contain the contagion. It was quarantined in social media.
The SFA will not get away with burying the compliance officers report. If it's a whitewash along the lines of lessons learned and more robust regulations after the horse has bolted, then the SFA should have no place to hide.
Disband this anachronistic body of jobsworths. To paraphrase a well-known song from Edwin Starr I contend:
The SFA, huh, good god
What is it good for
Absolutely nothing, listen to me…