"For the president to come out and introduce the new manager as a mate for years, and having been the chairman of his testimonial committee, is just staggering. The lack of awareness in that organisation is beyond belief and I've never been so angry, and it's not Alex McLeish because I hope that he goes on and does a good job. Where is the strategic planning? They've now effectively said that the chief executive role is almost immaterial because they've made the big call without them. Let's be honest, we all hear the chat, we're all in the industry. And the talk is that we know there's a split board at the SFA. The chat is that Rod Petrie and Alan McRae have got their man, and in return the other faction are going to be allowed to get the chief executive. That's not for the betterment of Scottish football. That is politicking. And it is unacceptable as far as I'm concerned." Michael Stewart on Sportsound.
McRae and Petrie – The Little and Large of the SFA – fought tooth and nail to retain Regan as they knew he had their backs. If Michael Stewart is to be believed, and I see no reason to doubt him, they will have a say but not the final say in the appointment of a Chief Executive. Moribund McRae is a small man with a small mind from a small club. The most apposite epithet for McRae is that he is a homunculus. As we saw from the fiasco of last season's Scottish Cup draw McRae could not organise a piss-up in Stewart Regan's brewery (Coors). I do not anticipate that any new chief executive would agitate for his removal. It would not take much to provide him with the occasional bowl as one might do with a stray cat that has formed an attachment to your doorstep.
However the new SFA 'dynamo' may have a difficult call to make on Petrie. Petrie chaired three meetings of the licence committee which gave Rangers a green light to participate in UEFA football whilst ignoring the elephant in the room of a £2.8m overdue payable. Alastair Johnston in an interview published in The Daily Record on 1st April admitted the existence of this liability and expressed concern about how it would be paid. Surely this should have raised a red flag at the SFA who made the final submission to UEFA fifteen days later? It did not. Did the licence committee hide behind the 31st March cut-off and ignore Johnston's revelations.
Was Petrie kissing Ogilvie's arse to ascend the greasy pole? It is my firm conviction that Petrie was cozying up to Ogilvie and Dickson and conveniently looked the other way when Rangers pulled a fast one.
When Regan rocked up at the SFA almost eight years ago he took on one of the most vile bigots to ever wear black and had the cojones to eschew his offer to call off a strike by Scottish if he were to be reinstated. Will the new SFA chief executive have the cojones to take Petrie to task?
Petrie needs a RRM at the helm of the SFA more than most. One can but hope that Michael Stewart is correct in his analysis. As for Alex McLeish EBT I just don't rate him. There is a reason his last position came to an end in sixty-five days and that he has been out of the game since May 2016. He is just not good enough. As we saw with Scotland and Birmingham/Aston Villa, he has no loyalty whatsoever. His only concern seems to be his next pay-day and how much he can evade in tax. He was not even good enough to make a return to Ibrox, so why on god's green earth is this unemployable coach in charge of the Scottish team? If he panders to Ibrox and attempts to cap their players to boost their resale value he will fall on his arse. One can but hope that he does and burns McRae and Petrie in the process.
Someone who is pleased with the McLeish EBT appointment had the following to offer on Ibrox Noise:
"If the stories over the past two or three weeks have highlighted any one thing, it is genuine fear from the rest of Scottish football that Rangers are slowly creaking back towards the summit of our game. For one, we now have a good bluenose as Scotland manager again, and believe you me, 99% of Scottish football is not happy at all about it. Mostly, the 'he left us in the lurch' nonsense is used as their case against him, despite the fact he is technically the most successful Scotland manager in history with incredible wins over the best team in the world and an all time high ranking with FIFA. Trust us, if he was a Celtic man, the game north of the border would be absolutely happy with him regardless of any 'history'. That he is likely to Make Scotland Great Again has absolutely no relevance to these people.
But that is only part of the story; Scottish football is absolutely falling all over itself to claim the Alfredo Morelos saga is absolute fiction, that Rangers have made up a bidding war for reasons unknown to themselves, and that there is simply no way a free-scoring 21-year old Colombian who is top scorer here could possibly be worth £11M even though transfer fees have absolutely catapulted since the days when Celtic's 23-year old free scoring Gary Hooper moved south for around £6M.
Even some of our own fans believe the story to be hogwash, as if the board is pulling the wool over our eyes. And guess what – all the doubters may be correct. But is it not funny that this story must be fiction but every other player who moved to China for £stupid is perfectly above board? Is it not odd that immediately so many think it is all fabricated but did not have the same instant dubiety at the £9M for Craig Gordon, the £6M for Hooper, the £13M for van Dijk and the same for Wanyama?
No, because it is Rangers Scottish football immediately calls foul, lies, misdemeanours et al simply because they are genuinely concerned beneath the faux mockery that Rangers are actually starting to get somewhere and lo and behold we have a few assets on our hands?
This entry is not saying 'we are back' – we have a long way to go and we well know this. But it is comical watching our enemies fall over themselves to cry foul at the first step on our road to recovery because they do not want us anywhere near the second one.
My simple point to them is this;
In response to their issue of claiming Morelos cannot possibly be worth £11M and the story is fantasy, I suggest this;
How can, in this day and age of transfer fees going into the hundreds of millions, a free-scoring Colombian 21-year old NOT be worth £11M?
If Rangers sold the kid for £5M rival supporters would be laughing at woeful mismanagement and mocking the fact we sold our best asset for peanuts, kind of like they did with Barrie McKay.
We learned. And Scottish football will just have to deal with that."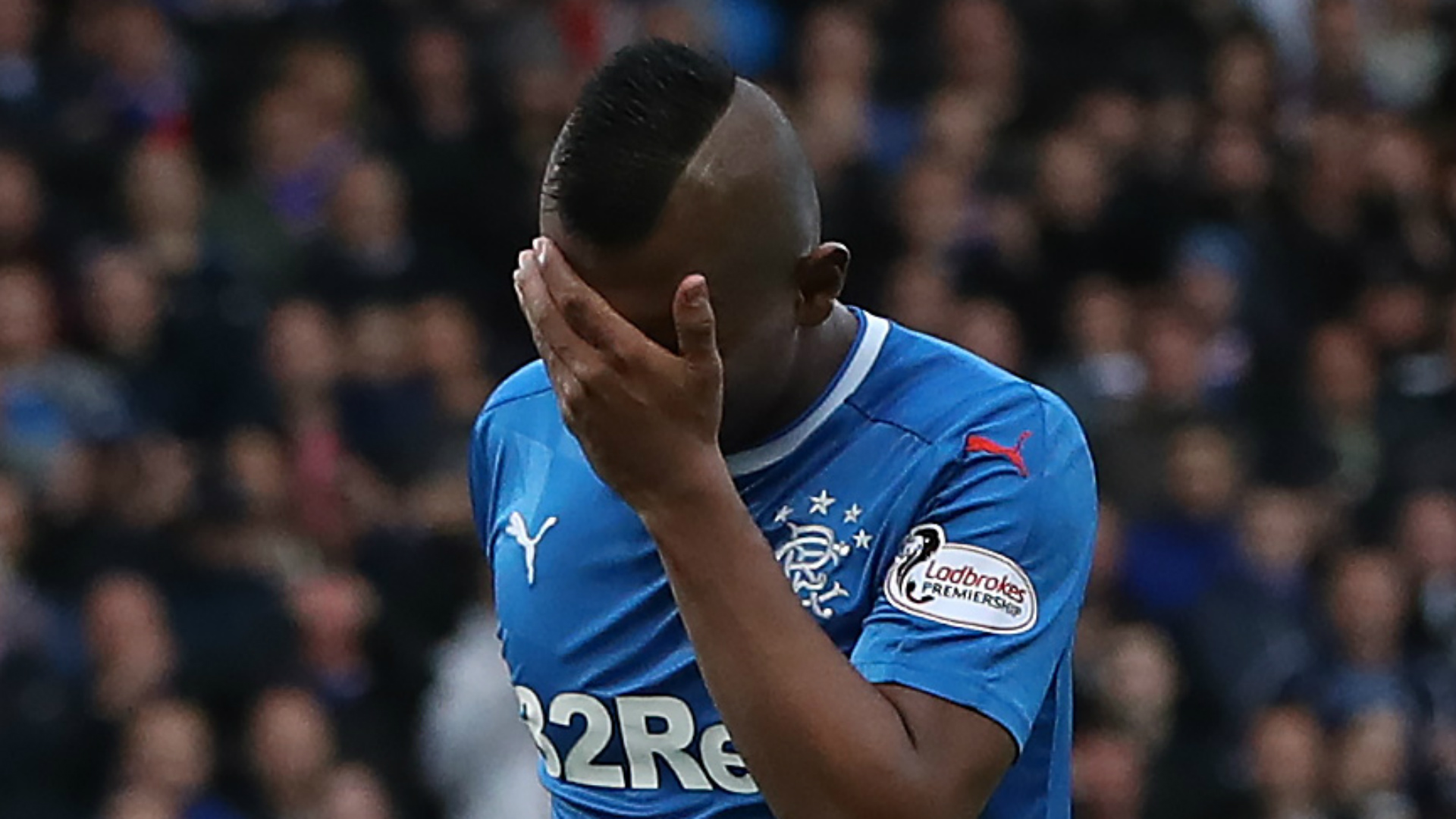 The latest to jump on the Morelos bandwagon is The Scotsman, which is hardly surprising given that even a dead cat bounce would be welcome at this failing title.
In Q3 & Q4 of 2017 its average daily sales declined to 17,700. How it's beleaguered owners Johnston Press can maintain this title must be an affair of the heart and not the head. In the second decade of its existence it had revelations apropos Burke & Hare to tittilate its readers. Now the best it can do is rehash Yuanker Traynor's latest wet dream.
The Morelos Squirrel is important to the rogue board who have pawned the car park and Edmiston House. It is a fiction that was created to deflect attention from the insolvency at Ibrox.
If the Ibrox Noise correspondent put down his Union Jack tinted spectacles for a moment the reality might just hit home. Close Asset Financing is a lender of last resort.
Rangers Lite is in a death spiral. There is no upside. It's all downhill from here. When King eventually departs and is on the lam south of the Limpopo the Sevco project will collapse. The prospective share issue, which would have provided temporary relief, will be stillborn. However even if it went ahead Club 1872 would be more than a dollar light and a day late.
Scoring against the worst defence in Scottish football viz Hamilton Academicals does not add zeros to Morelos' fee. As we witnessed with Barrie McKay the rogue board are adept at inflating the anticipated fee, only to be brought down to earth with a realistic £500,000 bang. Morelos is a greenhorn who should command no more than £1.5m in the close season.
There will be no Chinese New Year purchase of Morelos. He won't be an offering in a Red 32 envelope. The slow boat from China will be scuttled at sea.