"You have ripped the festering scab of the shameful secret of Scotland. Scotland was my place of birth but for thirty years I have called New Zealand home. I was a refugee. A person who felt obliged to forever leave his native land and wipe the dust from his shoes I did not want to bring up my family in a country that asked not what you can do but simply what school did you attend. I have previously detailed the appalling bigotry that I experienced as a young doctor in Paisley that convinced me that the visceral hatred and contempt for the minority of the population who were of Irish Catholic stock was endemic and irremediable. I was correct. It is clear that this cancer lives on in the Scottish police, media, justice system and football hierarchy. Every two weeks they conclave at Ibrox and proudly and safely sing their litanies of assumed superiority and wallow in their xenophobic hatred. I long for the day that their citadel of shame is forever closed. When this version slips into administration all good men and women should ensure that no other vehicle for continued hatred should persist. Enough is enough. Expose and shame Scotland's dirty secret."
Fisiani, who wrote this comment, is a doctor. He is the kind of home-grown talent that an independent Scotland should prize. However his experiences as a young doctor in Paisley convinced him to serve a community 12,000 miles from his birthplace.
My attempts to weed out the haters and lurkers will continue, but I stress the need to write to me on PayPal to solicit one's password. There were 22,000 hits yesterday. Sadly the concomitant contributions were one tenth of one pence. Yesterday's piece was free to air. It deserved as wide an audience as possible. Fisiani left a community where years later the local MP was reputed to have opined that she 'fucking hated Celtic.'  Mhairi Black cannot be dismissed as just a typical Irish/Catholic hating fuckwit spitting invective at Ibrox. This is a respected young politician whom with her wit and  her oh so PC and right-on lesbian credentials has already been earmarked as a future party leader of the SNP.
I have long learnt not to be disparaging of the SNP and to those in pursuit of an independent Scotland as my daily contributions, currently stalled at just under £30, can and will go lower. However allow me to ask one question. What kind of independence would one enjoy when one of the largest groups of Freemasons in the UK are to be found in Police Scotland? What kind of independence would you have where the state broadcaster espouses the continuation of an ethereal entity and openly employs tax cheats? What kind of independence would you have where the real movers and shakers in The  Speculative Society divvy up the capital and labour to serve their interests?
Would it be better than the DUP tail wagging the Tory dog? Probably. But how long will this bastardised alliance last? Independence is for all time.
Advocates for Scottish independence include Phil Macgiollabhain. He has an agenda. He wants to isolate the Unionists in the North of Ireland, deconstruct their power bases and move towards a united Ireland. If this resulted in the restricted movement of UVF/UDA paramilitaries then he would have my vote.
The UVF/UDA are now proscribed organisations. The Orange Order, which welcomes these killers with open arms, is allowed to inculcate their hatred all year round and bring it into the public domain during the parades season.
'The Famine Song' will always be a firm favourite in Orange halls.
However when a recent West of Scotland rally was organised, only 2,000 die-hard bigots congregated in Glasgow's George square.
Ibrox is and has always been the spiritual home of the UVF/UDA and The Orange Order. It's a citadel of hatred where upwards of 40,000 openly express their antipathy to the Irish/Catholic community. They celebrate a KKK member and sing about wading in Fenian blood.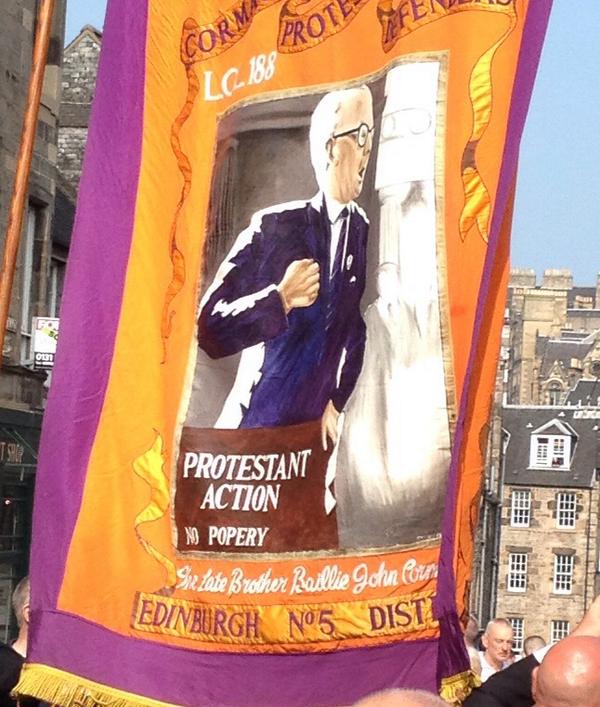 Let's be quite clear here. If they tried this on in England the FA would rescind their licence and close them down. Yet in Scotland nothing is ever done about Scotland's dirty secret. The odious SFA who advocate a strong Rangers have looked the other way since their formation in 1873. The Scottish Executive do the square root of fuck all. When the tax evasion shit hit the fan, Alex Salmond called on HMRC to go easy on the tax cheats as this 'great' sporting institution was worthy of a tax dispensation and kid-handling.
Stewart Regan warned of social unrest ignoring the social unrest that can be found at Ibrox on match days . Match days where anti Irish/Catholic invective is an intrinsic part of the match day experience.
If Scottish independence was achieved and the concomitant deconstruction of the DUP power bases followed, the bigots in the North would move to a country where their deluded sense of supremacy is upheld. Each and every disenfranchised bigot and terrorist would make a bee-line to the Larne-Stranraer crossing. They would come with murderous intent and with Special Branch holding their coats.
Scotland is a country where one can be convicted of bomb running and subsequently be appointed as a health and safety supremo. What special qualities did Bobby Baird bring to the job? Did he studiously spend all his leisure time when banged up pouring over H&S statutes? No. He was appointed because he served the cause of terrorism; a cause supported by a construction industry that has long been the preserve of bigots.
Scott Young, the retired owner of Young's Autos – which is adjacent to Morrisons supermarket in Troon – has the blood of at least 38 civilians on his hands. He is a former commanfer of a UVF unit. A unit which now find a home in the Orange Order.
Young's first warning shot was to instruct individuals to burn out my car which was parked outside my apartment. They burnt out the wrong car on this occasion but this did not deter four plain clothes detectives, all wearing masonic swivel rings, to visit your humble correspondent the following day.
They impressed upon me the need for vigilance while sizing me up for a hit. These individuals are working hand-in-glove with the criminals that they socialise with in Orange halls and Masonic lodges. They have one joint mission statement:
'The only good taig is a dead taig.'
As an atheist I can but assume that I have been deemed to be a 'taig' sympathiser.
I have no choice but to remain in exile. If I were to return my elderly parents would be murdered in my stead. This is Scotland in 2018. This is Scotland with its own preening MP's and MSP's. This is Scotland with its own Scottish Executive.
Ibrox is an incubator of hatred. If this is one of our great Scottish institutions one can count me out. However I did not make this decision of my own volition. This decision was made for me.
If a UVF commander can be murdered in broad daylight during a game at Ibrox, and his murder covered-up as an accident, then it goes without saying that they could take out anyone in the lawless state of Govania. On another occasion they followed a target home from Ibrox and subsequently assassinated him in front of his family.
If one is going to Ibrox on Sunday keep your wits about you as many of the bigots are wearing uniforms.