For many deluded Rangers Lite fans a game against Celtic is a re-enactment of The Battle of The Boyne. The prosaic facts of this battle, a defeat for The House of Stuart led by the deposed King James II of England, has been subverted to fit a narrative of Protestant ascendancy. The fact that the morbidly obese pederast that was William of Orange was an ally of the Vatican is conveniently overlooked. The fact that the Eindhoven Dutch went into battle under a Papal flag has been airbrushed from the WATP playbook. The fact that William of Orange was wont to stay in Catholic convents as a guest of the Pope is best ignored.
The Vatican and Holland were allies at that time. Their bitter enemy at that juncture was King Louis XIV of France. The 'God–Given' as he was known refused to accept the supremacy of The Vatican and was waging a war against the Dutch. The Vatican wanted King Louis XIV brought to heel and were happy to assist in a skirmish in Ireland.
James II was opposed to The Anglican Church. He represented both Catholics and non-conformist Protestants.
These historical facts have been altered to fit the anti-Catholic, No Popery, rhetoric of The Orange Order. An order with traditions that are predicated on lies. If one acknowledges that Rangers continuation is a lie one should take pause to consider the grandmasters of mendacity in The Orange Order.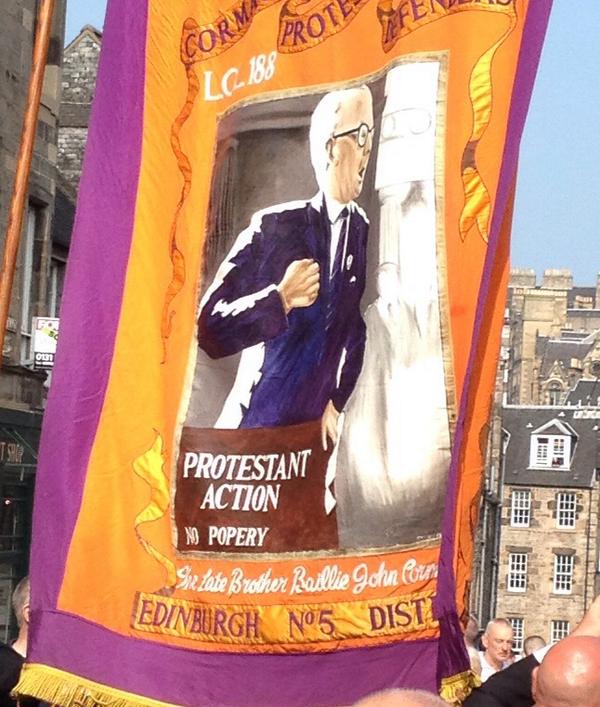 The Orange Order is an anti-Catholic sect. Rangers 1873-2012 was an anti-Catholic club until 1989 when they were threatened with UEFA expulsion. Those whom revere Bill Struth venerate an unreconstructed bigot. Struth may have not been the founding father of sectarianism at Ibrox but he was a pivotal figure in its proliferation. Harland & Wolff which opened a shipyard in Glasgow (1912 -1915) had a no-Catholics employment policy. They were the harbingers of hard-line sectarianism.
When the Irish Famine forced destitute families to flee for their very lives to Scotland, the Orange Order whipped-up their anti-Catholic brethren to do everything  in their power to crush them. Jobs for Irish emigres were like hens' teeth. Poverty was widespread.
Celtic were formed as a charity to provide school meals to the underprivileged kids in the East End of Glasgow. Many of the hardships these children endured had a causal link to The Orange Order.
In the 1930s Billy Fullerton and his gang would attack, maim and often kill Catholics for sport. The Billy Boys is sung by upwards of 40,000 at Ibrox as Fullerton is an anti-Papist hero.
Rangers 1873-2012 were not a Protestant club. They were an anti-Papist association football club forced by UEFA to hire a high-profile lapsed Catholic.
A mutation of Rangers 1873-2012 now plays at Ibrox. The fans of the new club have a huge chip on their shoulder. They actually believe that Rangers 1873-2012 was demoted. They rail against the SFA for allowing this to happen. They are as deluded as their Orange Order brethren.
This faux sense of injustice has been exacerbated by an SMSM who coin phrases such as Engine Room Subsidiary to add fuel to their fire. This fire will burn at its most incandescent when Celtic visit Ibrox on Sunday.
There was a time when Celtic and Rangers 1873-2012 were the top dogs in European football. The majority of the Celtic team that won the European Cup in 1967 played against the holders of the 1972 UEFA Cup Winners Cup. Sandwiched between these two triumphs was a Celtic defeat to Feyenoord in the 1970 European Cup Final.
Willie Waddell stated that Rangers were a big club because they thought 'big.' When they were banned from UEFA tournaments for a year ( a two years' suspension was reduced on appeal) due to the hooligan excesses of their supporters they should have put their house in order. But they had no moral high ground from which to preach to the masses as they held firm to their no-Catholics anti-Papist traditions.
Jock Stein during Celtic's 9 in-a-row pomp – won fairly with no EBT additives and irregular registrations – asserted that without Rangers and Celtic Scottish football would be a part-time backwater as was and is the case in Northern Ireland.
The Celtic fans who turn up at Ibrox on Sunday know that the spiritual forebears of the new club cheated to win 17 titles. They also know that a corrupt stitch-up by Ménage A Trois Ballantyne and David Longmuir – aided and abetted by Regan and Doncaster – resulted in the new club being 'gifted' with the honours won by Rangers 1873-2012, including the titles won by cheating. They also know that Rangers 1873-2012 lied to the SFA to gain a licence to play in UEFA tournaments in 2011. The Celtic fans also have a grudge to bear.
As we fast forward from the late 60s and 1970s preeminence we arrive in 2018 with a Celtic team that is ranked 46th in Europe and a Rangers Lite team ranked at 297. They are no longer top dogs.
Satellite broadcasters have moved the goal posts. The UEFA glory days of a sepia-hued past will never return. When Paris Saint Germain bought Neymar from Barcelona for £200m the paradigm shift in the fortunes of the leading European clubs moved from the back pages to the front pages. One will probably see a player change hands for £300m in our life time.
Scottish football has lost much more than the Glasgow plutocracy that was The Old Firm and European preeminence. It's Corinthian spirit has been sacrificed at the altar of commercial expediency. If Neil Doncaster can squeeze out a few extra millions of pounds on a Continuation ticket, he will unashamedly do so for the greater good of Scottish football. This artifice pays well. £352,000 per annum in the most recent SPFL published accounts.
The Glasgow Derby is no more than a local skirmish. Celtic will win their seventh successive title irrespective of the result. Rangers Lite will probably want it more but in the final analysis their appetite will not be enough to be Champions.
Lite fans, who now celebrate draws, can delude themselves all they like. They are good at that. But the league flag's inexorable progress to the East End of Glasgow will not be abated.
Celtic have the options on the bench to achieve the desired result. They have players in their squad of 18 that can change games. Lite can call upon Miller, Holt and Doodoo to their anticipated starting eleven of Morelos, Cummings, Windass, Candeias, Docherty, Goss, Halliday, Alves, Bates, Tavernier and Alnwick. The average value of their starting eleven is 641,000 Euros.
Not for the first time I have revealed the Rangers Lite team and on this occasion I don't require a tip-off from a source.
I watched a lacklustre Celtic prevail against Morton on Saturday. It took the Scottish Cup holders just north of an hour to breach the Morton defence. This should come as no surprise as the average value of the Celtic starting eleven was 2,700,000 Euros.
However the big picture is the SFA and their skewed misinterpretation of their own rules. Rules that should prohibit Graeme Park playing any part in the transfer of Docherty with no fee upfront to Rangers Lite.
The Orange Order with a skewed misinterpretation of historical facts will be watching a team on the park with a skewed misinterpretation of their history.
The blind lead the blind in a Scottish game where the Corinthian jig was up in 1988 when David Murray paid a $1m cash bribe to acquire a controlling interest in Rangers. This bent spiv and his acolytes have ruined the beautiful game for all of us.
As one watches the game we are all complicit in the SFA's 'move on' mission statement. I urge my readers to turn off their TVs and portable devices and attend a Juniors game. For those who value Scottish football's future £5 is a small price to pay.