One of my readers was kind enough to send me an 8,500 word file from MMRG. I will faithfully reproduce a précis of this file and my analysis. I'm not the only individual who pursues the odious McCanns with their faked abduction and their perversion of two inquiries by Leicestershire and the Metropolitan police,  each of which carries a maximum tariff of fourteen years imprisonment. If I were empowered to do so I would press for the sentences to be consecutive and put them both behind bars for 28 years. There is also charity fraud to consider. I would also imprison as a minimum the paedophile that is Doctor David Payne, and Jane Tanner from the Tapas 7 for a conspiracy to pervert the course of justice.
The McCanns use their ill-gotten £5m to crush dissenting voices with the best libel solicitors and barristers that money can buy. I will choose my words very carefully.
*******************************************************************************
A LETTER TO DRª JOANA MARQUES VIDAL, CHIEF PROSECUTOR, PORTUGAL, 28 FEBRUARY 2018, FROM MMRG
Introduction by forum owner, Jill Havern.
On 28 February 2018, members of the Madeleine McCann Research Group posted, by Special Delivery, a letter to the Chief Prosecutor of Portugal, Drª Joana Marques Vidal.
I'm now publishing the letter, in both its English and Portuguese versions. We are grateful to Portuguese journalist Paulo Reis for the translation of this 8,500-word letter, and to one of our long-time supporters who paid the translation fee. I would just like to add that Paulo offered to do the translation for free, but was persuaded by our generous friend to accept a fee at standard translation rates.
The letter was written by members of the Madeleine McCann Research Group (MMRG).
The lines of enquiry advanced by MMRG in the letter have emerged in large part from the long-term efforts of members of CMOMM. There are a number of Madeleine McCann discussion forums. Ours has been a discussion-forum plus. By that, I mean it is discussion + focussed research. Literally hundreds of CMOMM members have, over the years, contributed to the hypothesis laid out by MMRG in its letter. I thank every one of you so much for your time, effort and input.
As is well known, the Admin & Moderation team here are also of the opinion that many lines of evidence point to Madeleine having died three or four days before the McCanns raised the alarm on Thursday 3 May.
The Portuguese Police are responsible for any further investigation into Madeleine's reported disappearance and that is why MMRG have sent the letter to the Chief Portuguese Prosecutor, Drª Joana Marques Vidal. It is the view of the overwhelming majority of CMOMM members that the Scotland Yard investigation is a charade and a cover-up of what actually happened to Madeleine, just as Gonçalo Amaral alleged. While MMRG do not think Scotland Yard will act on the letter, MMRG will shortly send it to them, if only to prove – hopefully one day soon – that the Metropolitan Police has acted thoroughly dishonestly in pretending to conduct a genuine investigation.
In signing off, I must on behalf of myself and CMOMM say a huge 'thank you' to others who have helped in here and MMRG to get where we are today. I must make mention of those who have kept great libraries of information for us to use, such as pamalam, Nigel Moore's mccannfiles, and Maddie Case Files.
I want to pay tribute to Gonçalo Amaral and his original team of detectives, who did so much – against an impossible background of intolerable international media pressure, gross interference in his investigation by the British security services, and lies and outright fabrications by many of their witnesses. Portugal can be justly proud of them.
Finally, I must – regrettably – end with a note of disgust. Just before MMRG sent their letter, I heard that the McCanns had not yet paid one penny of the court costs that were awarded against them by the Portuguese Supreme Court in January 2017. For nine years, the McCanns crusaded against Gonçalo Amaral in the courts, pushing him to one hearing after another, using money provided by the British public, supposed to be for finding Madeleine, and no doubt money from certain 'other' sources. Kate McCann said she wanted him to 'feel pain'. Well, they succeeded in doing that all right.
But after nine years fighting him, they LOST. And, fourteen months later, they have not yet had the decency to pay him what the court ordered.
Utterly shameful.
******************************************************************************
From: The Madeleine McCann Research Group
(Address redacted)
Tel: + 44 7xxxxxxxxx
28 February 2018
To:
Exma Sra. Procuradora-Geral da República,
Drª Joana Marques Vidal
Rua da Escola Politécnica, 140
1269-269 LISBOA
PT P O R T U G A L
Dear Drª Joana Marques Vidal
re: The Disappearance of Madeleine McCann: New evidence of what happened to her
We are a group of mainly British researchers. Most of us have studied the disappearance of Madeleine McCann in depth for the past 10 years. Our members and researchers include many people with professional expertise, such as ex-police officers, lawyers, photographers, computer experts and statement analysts.
On 10 September 2007, Chief Inspector Tavares de Almeida, on behalf of the Policia Judiciara, produced an interim ('intercalary') report summarising the police's case against Madeleine's parents, Dr Gerald and Dr Kate McCann (6):
This is an English translation of the conclusions reached by the PJ's investigation up to and including 10 September 2007:
QUOTE
From everything that we have discovered, our files result in the following conclusions:
A: the minor Madeleine McCann died in Apartment 5A at the Ocean Club resort in Praia da Luz, on the night of 3 May 2007
B: a simulation – a staged hoax – of an abduction took place
C: in order to render the child's death impossible before 10.00pm, a situation of checking of the McCann couple's children while they slept was concocted
D: Dr Gerald McCann and Dr Kate McCann are involved in the concealment of the corpse of their daughter, Madeleine McCann
E: at this moment, there seems to be no strong indications that the child's death was other than the result of a tragic accident, yet;
F: from what has been established up to now, everything indicates that the McCann couple, in self-defence, did not want to deliver up Madeleine's corpse immediately and voluntarily, and there is a strong possibility therefore that it was moved from the initial place where she died. This situation may raise questions concerning the circumstances in which the death of the child took place.
G: Therefore, we suggest that the case files are sent to the Republic's Prosecutor, in the Lagos legal district, for:
1 possible new questioning of the arguidos Dr Gerald and Dr Kate McCann, and
2 an evaluation of the measure of restraint to be applied in this case.
During the house search at the McCann couple's residence, a diary style manuscript was found, already photocopied, possibly authored by Dr Kate McCann; admitting that it may contain information that may help to reach the material truth of facts.
We therefore propose that the photocopies of the said document are presented to the illustrious judge for the purpose of its apprehension (if legal), its translation and eventual collection of information to be included in the files, as necessary for the investigation.
At this date, I submit the case files for your appreciation, for you to determine whatever you may see as convenient.
10 September 2007 Chief Inspector Tavares de Almeida
****************************************************************************
The research that we have undertaken – and that of many others both here, in Portugal, and elsewhere – leads us to support all of the above conclusions in Tavares de Almeida's report – except for one.
We noted that when the report of the Policia Judiciara was archived in July 2007, it was said that the case would be re-opened if 'new and credible evidence' was received by the Portuguese authorities. The case was re-opened in the PJ's Oporto office in 2013. Our letter contains evidence which we believe they should see and act on.
As a result of painstaking research by many people, we believe that we are now in a position to supply you with new and credible evidence on one matter (the date of death) covered in the first point of Tavares de Almeida's report, namely: "Conclusion A. the minor Madeleine McCann died in Apartment 5A at the Ocean Club resort in Praia da Luz, on the night of 3 May 2007".
We are satisfied that we can now provide sufficient evidence to show that the minor Madeleine McCann died not on the night of Thursday 3rd May, but instead died between Sunday afternoon (29th April) and Monday afternoon (30th April).
The remainder of this letter sets out in brief summary the evidence which we suggest points clearly to Madeleine having died on the Sunday or Monday that week. We will present the evidence under these seven headings:
A:  A large number of false statements were made at the outset, containing a huge amount of fabricated evidence. These added credibility to the McCanns' claim that Madeleine had been abducted on Thursday 3 May. They diverted the PJ investigation into believing that Madeleine was still alive that day.
B: The photograph of Madeleine McCann, Dr Gerry McCann and Amelie, taken by the Ocean Club pool.
C: The absence of photographs of Madeleine taken after Sunday.
D: The fabricated statement of Nuno Lourenco, who tried to identify Wojchiech Krokowski as a potential child-kidnapper who had tried to abduct his daughter on Sagres beach.
E: The unreliable evidence of the children's nanny (and McCann family friend), Catriona Baker, Dr Gerry McCann and Dr Kate McCann about an alleged 'high tea' at the Ocean Club Tapas restaurant, at about 5pm to 6pm on Thursday 3 May.
F: The lack of any credible, independent evidence by anybody that Madeleine McCann was seen alive after Sunday 29th April. (
G: The mystery of the strange 'Make-Up Photo' of Madeleine, which appears to have been taken on Sunday 29th April.
H: Clear photographic evidence that the very same pyjamas Madeleine had with her on holiday in Praia da Luz were later held up by the McCanns at two press conferences, one in London on 5th June 2007, the other in Amsterdam, Holland, on 7th June 2007.
***********************************************************
To promote the abduction hoax the McCanns claimed that the photograph of Maddie, her sister Amelie and her father was taken on the date of her disappearance i.e. Thursday 3rd May. However as it was taken in warm sunshine and all other days were dull and overcast during their vacation, there can be little doubt that it was taken on Sunday 29th. Has the date stamp been altered to reinforce the hoax abduction? The McCanns as I highlighted in previous blogs were 'forensically aware.' This discovery suggests that the McCanns were both lying and fabricating evidence.
The Portuguese police (PJ) concluded that the McCanns concealed Madeleine's dead body. Is it possible that Gerry McCann concealed her cadaver on two occasions?  On his return from a trip to the UK, McCann's mobile telephone was picked up by masts 30 km south of where the remaining members of his family were staying. He had passed by the turn off for Praia De Luz. He deleted fourteen messages during this trip. Did he on this journey dispose of Maddie's cadaver for a second time? He left the hatchback of his rented car open for several days to 'air' the car. Despite his best efforts the cadaver dog picked up the scent of death and the bloodhound found spots of blood. Fourteen of the markers matched Madeleine's DNA. Eighteen is usually required for a successful criminal conviction.
Finally there is the pyjamas and the investigative work done by Richard D Hall. If Madeleine had been kidnapped as the McCanns allege, did the kidnapper take the time to remove her pyjamas and leave his DNA all over her discarded nightwear? It's as preposterous as the McCanns beating the floor to add a sense of drama to their abduction hoax.
Perhaps the most disturbing photograph of Madeleine during her holiday in hell is this one: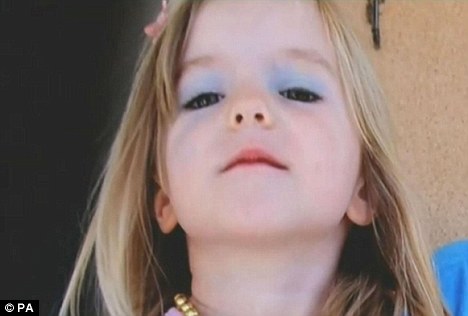 Kate McCann claimed in her book that Madeleine was playing with her mother's make-up box. This smacks of a barefaced lie. Madeleine was three years of age at that time and would have probably reverted to doodles and not the perfectly applied eye-shadow which was more likely to be the handiwork of her mother. Given that we know that Doctor David Payne and Gerry McCann openly discussed the sexual grooming of the then two years old Madeleine, as per the Gaspars' witness statement, could this photograph have been taken prior to an event that resulted in her death?
The FCO at the insistence of war criminals Tony Blair and Gordon Brown, accompanied the McCanns to every meeting with the PJ. They were also accompanied by a New Labour spin doctor and an extradition QC. Are those who come on this site to berate my articles on this matter still convinced of their innonence or is it just a convenient stick with which to beat your humble correspondent?
Anyone who believes that the McCanns did not pervert the course of justice should read the following paragraph which is extracted from a written judgment by Justice Hogg in the Family Division of the Royal Courts Of Justice on The Strand, London.
Mrs Justice Hogg:
Madeleine went missing on 3 May 2007 just a few days before her 4th birthday, while she was holidaying with her family in the Algarve in Portugal.
On 17 May 2007 Madeleine's parents invoked the jurisdiction of this Court under the Inherent Jurisdiction of the Court, and The Child Abduction and Custody Act, and the Hague Convention. They sought various orders and directions aimed at ascertaining the whereabouts and recovery of Madeleine. I became involved with the proceedings shortly afterwards.
On 2 April 2008 Madeleine became a Ward of this Court, and since that date has remained a Ward. At all times jurisdiction was assumed by the Court because, there being no evidence to the contrary, it is presumed Madeleine is alive. She is a British Citizen, and like her parents habitually resident here.
The current application was made on 2 April 2008 by the parents seeking disclosure of information and documents from the Chief Constable of Leicestershire to assist them and their own investigations in their search for Madeleine. Such are the complexities of the issues involved other interested parties were invited and joined to the application, and directions given for the hearing today. The parties have reached an accommodation whereby the Chief Constable will provide to Madeleine's parents contact details of members of the public who had themselves contacted the parents or their solicitors, and which on receipt were immediately passed to the Chief Constable, together with a brief resume of the information given.
Can everyone see what is going on here? The 'grieving' McCanns petitioned the Royal Courts of Justice to make Madeleine a ward of court within fourteen days of her 'disapperance.' They sought and were granted access to the files held by Leicestershire police to assist in their own botched investigations.
How fucking ingenious of the them to gain access to any damaging allegations.
No-one doubts that the McCanns are highly intelligent but they were and continue to be well-advised. The unseen hand of the former New Labour spin doctor has sown a bitter harvest.
There are those who contend that Dame Hogg is yet another cog in the wheel of an Establishment cover up. I demur. I have appeared before her. She has a fabulous forensic mind and would not bend to any New Labour political will.
In a departure from what passes for the norm in family matters her judgment was arrived at in an open hearing. Ordinarily all family proceedings in her court 33 are closed to public scrutiny.
Dame Hogg and her aristocratic friends are no longer allowed to hunt foxes. They now hunt fathers for sport.
Will the McCanns ever face justice or have they outsmarted all of us?
n.b. For those of you who enjoy my off-piste pieces – I have received many letters from appreciative readers – it might seem incongruous to solicit your vote in the Best International Football Blog category at the forthcoming 2018 awards. However as the main body of my work is football and in particular L'Affaire Rangers, I can but hope that one will support your amateur humble correspondent. Your David competing against a professional Goliath.
https://www.footballbloggingawards.co.uk