Those of you who follow @sitonfence on Twitter or dropped by our site late on a Saturday will note that I exclusively revealed the Celtic starting eleven at 9 p.m. BST yesterday:
Gordon, Lustig, Ajer, Boyata, Tierney, Brown, Ntcham, Rogic, McGregor, Forrest, Dembele.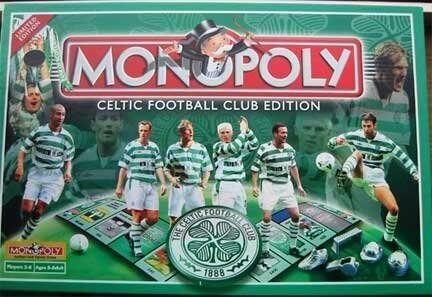 My source, who also provided me with the Lite team prior to a derby game at Ibrox with 100% accuracy, is usually on the money. He also exclusively revealed that McInnes had shaken hands on a deal with Robertson. King's call to McInnes and his desire to take the issue of compensation to court was a deal breaker. Did an unsettled McInnes leave Aberdeen's season in tatters? I could make a cogent case for a causal link. After yesterday's comprehensive 0-3 reverse in the first Scottish Cup Semi-Final one might expect McInnes to be shown the door. However this would allow Lite to hire him on the cheap. Can anyone envisage even the gullibillies accepting someone whose stock has fallen off a cliff?  Chapeau to Motherwell nevertheless.
If all eleven Celtic players turn up  The Celtic Monopoly of domestic trophies will continue. Six days later, three points will deliver their 49th title. If they extend their winning title run to twelve in a row, they will surpass the former Rangers as one of the latter's titles was shared with Dumbarton in the late 19th century. The former Rangers domestic supremacy, with five overtly bent wins, will be usurped.
Celtic are in a different paradigm to a team of loanees, over the hill mercenaries and the first ever DFS player, Greg Docherty, who cost nothing up front with the first payment to be made in August. It's the kind of business that must warm the cockles of Douglas Park's heart with his equity in both clubs. Is it not high time that the SFA took him to task or are they too busy buffing his brown brogues to notice?
All eyes will be on the Lite Directors' box to see whether King, who is now in contempt of court, turns up. As the TPE V King petition was the last in Lady Wolffe's itinerary on Tuesday, her written judgment may be being written up as I write. It's now obvious that King has no intention of making an offer and will retreat into the Limpopo shadows while still pulling the strings at Ibrox. If Robertson thinks that RIFC will escape sanctions by having a shadow chairman I suggest he thinks again.
As King contemplates going directly to jail and not collecting £200, Matron Murty will have his last ever meaningful roll of the dice. Lee McCulloch fancies Lite's chances after extra time. I demur. Celtic will win this game by three clear goals on a level playing field.
My Auchenhowie mole has apprised me of an unusual training drill apropos Boyata, whom Murty & Nicholl believe is Celtic's weakest link. The drill – Press, Dispossess, Dive in the box – speaks for itself. Even the lightest shirt pull by Boyata as he flounders to recover will result in those in light blue having a close encounter of the green kind.
A red card, a penalty and a Tavernier free kick give Lite a puncher's chance. This is the best they can hope for. I don't anticipate it being enough.