When Celtic thrashed Rangers Lite 5-1 at Ibrox on the 29th April 2017 they had already secured their sixth successive title on April 2nd with eight games to spare. If this in itself was not enough to end Caixinha's tenure, surely even he must have realised that his time would soon be up having failed to Progres against the fourth best team in Luxembourg. A season which began in ignominious defeat has ended in ignominious defeat. A year has elapsed and Celtic are still good value for their four goal superiority.
This season's vintage from Lennoxtown is not the invincibles of last season. A team that won 34 games from 38 (four draws) and secured the treble with aplomb. I have on our site posed the question as to when we will see their likes again. We saw them yesterday in what can best be described as an exhibition game. There was too much ugliness, primarily from Morelos, for yesterday's 4-0 romp to be categorised as a training exercise.
Eighteen hours prior to kick-off I exclusively broke the Celtic starting eleven. I asserted that Celtic would win by three clear goals. I stated that Lite only had a puncher's chance of an upset if they were awarded a penalty and Celtic were reduced to 10 men. I added that even this would not be enough. Despite providing this exclusive information and insights, I was criticised as referee Madden had by all accounts a good game. Which leads me to two points. Would he have awarded yesterday's penalties at Ibrox? He was loath to penalise a waist-high tackle on Griffiths. The second point is if Madden had such a good game why did he not send off Morelos who was throwing punches like a boy in a hurry to reacquaint himself with some nose candy?  This is the player the board would have us believe is valued at £15m. The Gullibillies were told that the board were showing ambition by refusing an offer of £12m from a revolving cast of Chinese teams. I on the other hand was telling anyone who would listen that it was a fiction cooked up by Traynor to get a player off the books who is a coke bust away from arrest and possible deportation.
Murty had Cummings and Miller on the bench. Neither would have missed from four yards as El Buffalo has done in two successive Glasgow derbies. Why does Murty insist on playing this coke-addled half-wit. There is a village in Colombia missing this idiot.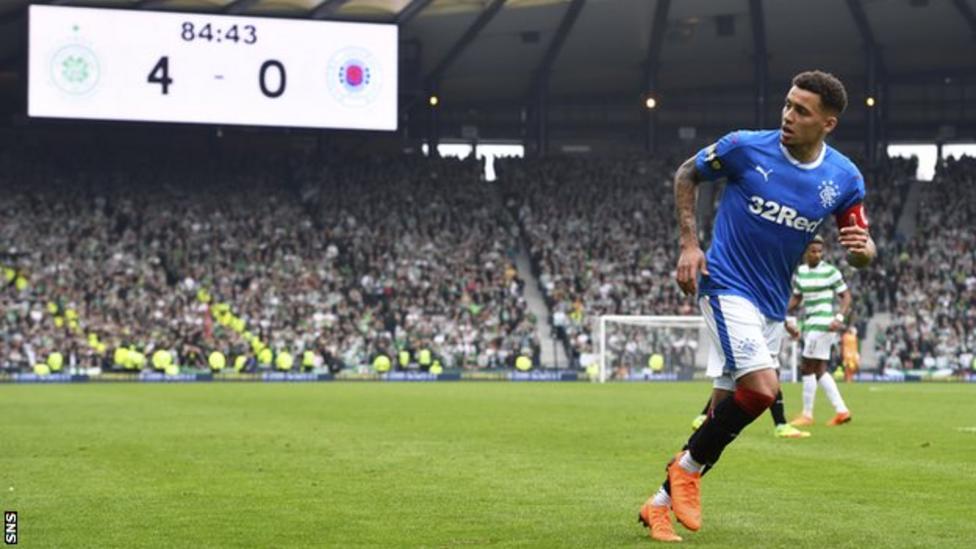 To add insult to injury Lite's DFS player – whom is on a free loan from Hamilton courtesy of Douglas Park – Greg Docherty  – took the headless chicken to task for yet another shocking performance. Morelos responded by breenging at Docherty in the tunnel. It was the fastest Morelos had moved all day. He was dragged off Docherty while foaming at the mouth. I guess it makes a change from foaming at the nose in an expensive Glasgow watering hole.
The dissent in the Rangers Lite ranks was not confined to Morelos. My source, who was in earshot of Halliday, has apprised me that Halliday called Murty 'a clueless Fenian Cunt' on being substituted five minutes before the interval. By not waiting five minutes Murty humiliated Halliday. But on balance Murty did the right thing. Why continue with a player whose first touch was so poor that it set up the Celtic forwards with a slew of shooting opportunities? Why risk 0-3 before the interval? When Candeias was hooked he made his way directly to the dressing room, blanking Murty and his bench.
Murty will probably be dismissed for this performance, but if he has lost the dressing room as seems evident, he is not exclusively to blame. The contemptible career criminal, absent from Hampden yesterday as he feared arrest, sowed the seeds of dissent by informing the media that Murty would be replaced. King did not even have the courtesy to call Murty to warn him of the shit storm heading his way. Is it any wonder that Halliday felt free to launch both barrels at an under-fire manager? Can one imagine Halliday trying this on with Jock Wallace in the dugout? The estimable Mr. Wallace would have kicked his arse all the way to Gullane and buried him in a sand dune. Halliday had a nightmare 40 minutes. He should have sucked it up and shut his mouth. Halliday' objective of noising up Scott Brown in the hope of a red card reaction failed miserably. He could not even get that right.
Prior to this game, Sky pundit Charlie Nicholas asserted:
"I don't know how seriously they take Dave King, but I'll be surprised if he is there next season. He's got issues trying to buy the football club but he's not turned up or responded with that money. If I was a Rangers fan, which I'm obviously not, I would be worried about sorting that out rather than wondering who the next manager will be. It's not as exciting a job as it once was at Rangers because there are still issues upstairs."
I had a quick look at Divine wannabe Mark Dingwall's Follow Follow to gauge whether the penny had yet dropped apropos King. From what I could discern the Gullibillies are oblivious to the fact that King is in contempt of court but the more informed in their milieu are suggesting that King has cost them two seasons. Their 'Rangers' have not progressed and of more immediate importance have not closed the gap on Celtic.
There is an accepted truism that the table never lies. With five games to the final table Celtic are on 75 points. They have drawn nine games and lost two. Last season they amassed 106 points. This year the best they can hope for is 90 points.
At the end of last season Rangers Lite were 39 points off Celtic's record-breaking pace and nine points behind Aberdeen. Lite have closed the gap. They are a better team than Aberdeen and superior to Hearts, but with morale at an all time low the post split points are not guaranteed. Hibs and Kilmarnock have their measure. Celtic are on a different planet. Lite could lose all five and be out of Europa League contention. I stand by my forecast that Hibs will be runners-up, with Aberdeen edging third place.  The most improved team in Scottish football is Kilmarnock. Steve Clark has done a marvellous job. Kris Boyd is scoring for fun. The schisms in the Lite dressing room give Clark a glimmer of reeling in a seven point deficit.
Rangers Lite have finished this season where they started. If they continue to beat each other up even a defeat to Luxembourg's fourth team will be beyond them. Celtic rag-dolled Lite in third gear. They pulled down their pants and spanked them, leaving them to shuffle off the park like infants looking for their potties.