How much does it cost to read The Daily Record for six days per week? Sixty-five pence per week day and ninety pence on a Saturday. When one adds in the Sunday Mail one's expenditure is £5.85 per week. £5.85 per week to read Level 5's PR spin, which is paid for by one sponsor, namely Dave King. Jim Traynor is effectively running Rangers and he is happy to throw his weight around. So much so that the actual Managing Director, Stewart Robertson, prefer to work from his home office.
The timing of Keith Jackson's annual exclusive was no coincidence. The decision to release the black propaganda of an inordinately generous peppercorn rent at Ibrox Stadium's Sports Direct Retail Outlet was made by the Johannesburg Joker, Dave King.
King delegated its publication to Traynor who on this occasion favoured Jackson. Traynor is an advocate of the carrot & stick approach to managing the hapless hacks who once fetched his morning coffee. If they are reluctant to print his black propaganda or succulent insights, he can easily take his business to one's rival across the quay. Would Jackson risk being out of the loop like Yesterday's Man, BFDJ?
The objective was to paint David Somers and the old board black. Somers was deemed to have engaged in a petulant scorched earth strategy. This is a barefaced lie, but Traynor's  lamb-jockey would never let the truth interfere with an incendiary metaphor. The prosaic facts are that Somers arranged a £10m loan to keep the lights on for two seasons. Ibrox Stadium was slated as the collateral for this loan, but the board demurred and reverted to a floating charge on all the assets, with the stadium ring-fenced. Ashley agreed not to exercise his right to name the stadium as The Sports Direct Arena and in return was favoured with a 10 year £1 per annum rent. It was just business and given RIFC's precarious finances it was very good business for the club at that time. If this loan facility had not been arranged RIFC/TRFC would have gone under.
This good business was anathema to the criminal requisitioners who had procured hacked information for £25,000. Paul Murray bought this misappropriated data at the behest of King. Traynor released the black propaganda via the Charlotte Fakeovers Twitter site and its derivatives. Now that the rogue board are running the basket-case of assets, they have no need of Twitter subterfuge as they now have recourse to a stable of tame bagel-boys who masquerade as journalists.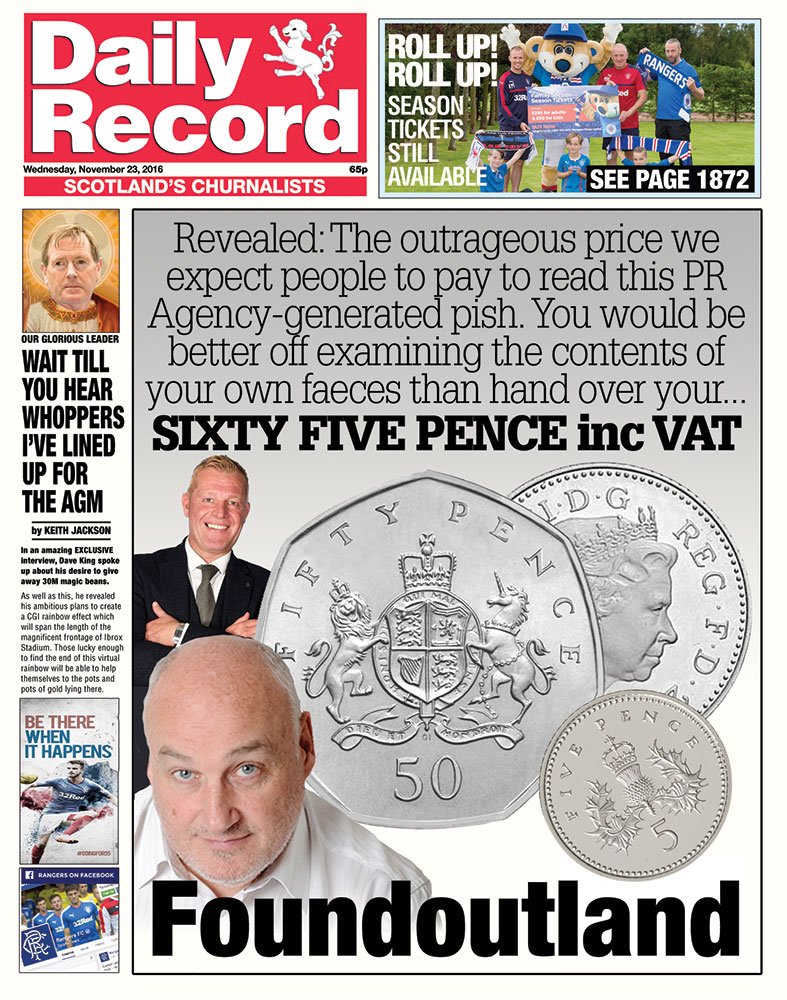 Yesterday I published three exclusives, two of which are nailed down certainties. The first from an excellent source is that Perjurer McParland, who made such a hash of the Rangers close season transfer business, was shown the door at Liverpool due to his penchant for receiving envelopes stuffed with crisp £20 notes at service stations. Would it be too much of a stretch to suggest that the perjurer engaged in the summer signings with one eye on manila envelopes? Perish the thought.
The second exclusive, which came from a source with substantial shareholdings, is that Sandy Easdale's blacklisted proxy has written off their investments in RIFC. Not one of his former proxy are prepared to challenge the rogue board's decision to strip them of their votes. It would be an exercise in throwing good money after bad. There is no impediment to The Joker, The Baron and the Invisible Man engaging in some quantitative easing by printing share certificates like they are going out of fashion, which in the current circumstances is paticularly apposite.
My third exclusive goes against the grain of my grasp of the salient details. A deep throat who has provided 'on the money' exclusives has passed me information via an intermediary that Ashley is prepared to reconfigure Rangers Retail Limited on a 75/25 basis to the benefit of the rogue board. If the deep throat is accurate this announcement will be the centrepiece of King's pitch at the AGM tomorrow. King will solicit share purchases on the basis of retail being in the mix. Club Tropicana will underwrite the share issue, and Hoover up any unsold shares.
The third is not a nailed-down certainty but as my source stated one cannot have access to the sperm stained sheets on every occasion. On this occasion I'm not trusting my instincts.
So why read The Daily Record when one can read and comment on all the issues on this site? I have a fourteen-month track record of not missing a trick and an archive in excess of 600 articles. The 21,500 comments are eloquent, measured, informed and free of the ad hominem attacks which compromise other comment forums. Some contribute as little as £1.50 per month to this site, but I would argue that £5.85 per week, and a little more for the PayPal commission, would be preferable. Would a recurring payment of £20 per month be too much for those in employment?
My generous readers who contributed £27 to the virtual tables paid for my trip to Manchester. I brought back an award which belongs to all of us. It's an award for the excellent comments which some prefer to my editorials. It's an award for brave social media journalism which must endure the most vile threats to publish the truth.
The bigots cannot handle the truth.
At the FBA Awards ceremony I kept my wits about me. I refused the free bottles of Budweiser and put my hand over my glass when Jimbo was pouring a Pinot Grigio. Anthony and his delightful wife dropped by to wish me good luck and later congratulate me. Mark treated the JJ table to champagne to toast my success. However I drank slowly and remained sober. The presence of two 'bouncers' less than five feet from my table was not lost on me. I was fully aware of the internet feed, and had arranged with The Mensch beforehand to collect the award in the unlikely event that I won. He duly stepped up. I'm aware of why his words were emotional but I'm not at liberty to disclose this. Those who are apparently targeting one of Willie Henderson's close friends should take a long hard look at themselves.
Donations have dropped in the aftermath of the awards. Would there be any traction in an Ask JJ feature where I provide a full response to a reader's question? One enterprising reader donated £10 which solicited my comprehensive response. I had discussions in Manchester about advertising but I'm not willing to surrender my URL and I'm confident that my readers share my aversion to selling out.